RG3 to Romo: 'Don't listen to what anybody else is saying about you'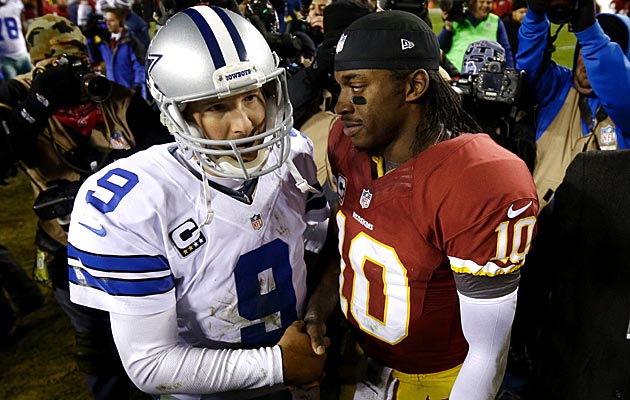 If you watched the end of Sunday night's Cowboys-Redskins game, you may have seen Washington quarterback Robert Griffin III have what looked like a Very Serious Discussion with Dallas' Tony Romo.

The former, a rookie first-round pick, has had a sensational season and is headed to the playoffs. The latter, a 10-year vet, had just put the finishing touches on a three-interception performance that resulted in the loss -- and the Cowboys missing the postseason (again).

So what was RG3 telling Romo at midfield? Basically, to keep his head up.

"Hey Tony, I just wanted to say to you, don't listen to what anybody else is saying about you," Griffin said thanks to NFL Films microphones that picked up the conversation (via PFT). "You're a great quarterback, man," he continued. "And this game doesn't mean anything."

Romo has been a magnet for criticism for years -- from both Cowboys fans and detractors who don't consider him a legit franchise QB -- but we'll revisit something we wrote about him back in June:
As long as the Cowboys continue to underachieve and miss the playoffs, quarterback Tony Romo will generally be considered something less than elite. It's not entirely fair; after all, according to Football Outsiders' metrics, he ranked fourth in value per play last year behind Drew Brees, Aaron Rodgers and Tom Brady. And the year before, he was ninth. But Dallas also went 8-8 and 6-10 the last two seasons (though Romo missed 10 games in 2010 with a fractured clavicle); not only did they miss the playoffs, they couldn't even break .500.
A couple of things: in 2012, Romo ranked ninth in Football Outsiders' value-per-play metric, so he's still among the league's best quarterbacks (even if he has horrible timing). And with the Week 17 loss, the Cowboys finished 8-8 for the second consecutive season, which makes it all the more difficult to mention him in the same breath with his counterparts who regularly play in January.

Not to worry, Romo supporters: he has the full support of owner and general manager Jerry Jones.

Perhaps the biggest takeaway is that Griffin may be 22 but he's clearly wise beyond his years. And he's not a bad quarterback, either (coach Mike Shanahan can attest to this.)

For more NFL news, rumors and analysis, follow @EyeOnNFL on Twitter, like us on Facebook, and subscribe to the Pick-6 Podcast on iTunes. You can follow Ryan Wilson on Twitter here: @ryanwilson_07.