Twitter captures the craziness of Super Bowl Media Day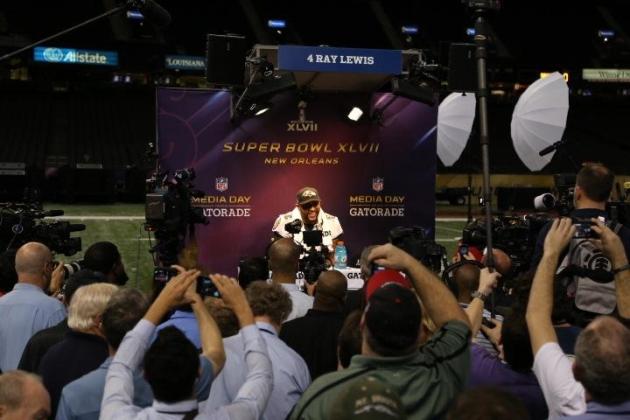 The ridiculousness of Super Bowl Media Day has found a new home: the Twittersphere. Tweeters captured in full the absurdity of today's Baltimore and San Francisco media sessions.
Several media members made the day about themselves.
Skip, is that you? RT @nfloncbs: A clown shows up to Media Day. instagram.com/p/VE4kExH0Or/#SB47

— Alessandro Miglio (@AlexMiglio) January 29, 2013
I've seen a Viking, a superhero, and a guy in a luchador mask. Ah, Super Bowl Media Day, why do you take yourself so seriously?

— Luke Jones (@BaltimoreLuke) January 29, 2013
Proof the economy is recovering: The clown quotient was notably higher at media day, after couple down years. Travel budgets are back. #SB47

— Don Banks (@DonBanks) January 29, 2013
Media Day in a nutshell (pun intended): A TV Azteca reporter is interviewing a yodeler who was interviewing a clown, while I Tweet about it.

— Ralph Vacchiano (@RVacchianoNYDN) January 29, 2013
First costumed creature of Media Day: Pick Boy, Nickelodeon's Robin ripoff. His SB pick? Doesn't have one. Should rename him: Dodge Boy.

— Kevin Manahan (@KevinCManahan) January 29, 2013
This is the craziness of media day. #SBRavens twitter.com/Ravens/status/…

— Baltimore Ravens (@Ravens) January 29, 2013
Craziness aside, several stories did emerge from Super Bowl Media Day, including whether Ray Lewis used PEDs to recover from his triceps injury. Ray Lewis memes quickly blew up on Twitter.
Ray Lewis, possibly more scary with antlers twitter.com/RealMattCarl/s…

— Matt Carl (@RealMattCarl) January 29, 2013
ATTENTION DEER HUNTERS: If you come across a deer with no antlers don't shoot it! He belongs to Ray Lewis.

— Johnny Bananas (@MTVBananas) January 29, 2013
BREAKING: Ray Lewis has just been hired by LIVESTRONG

— Evil Mike Tomlin (@EvilMikeTomlin) January 29, 2013
It wasn't for his triceps. Ray Lewis sprayed the deer antler spray in his eyes to make it look like he was crying. Get your facts right.

— SportsPickle (@sportspickle) January 29, 2013
Lewis wouldn't talk about his possible deer antler extract usage, but he, as well as several other players, weighed in on President Obama's comments about football safety.
Ray Lewis on Pres. Obama saying football unsafe 4 kids — "I would tell him don't shatter kid's dreams. We'll figure out safety part." #SB47

— Vic Tafur (@VicTafur) January 29, 2013
Bernard pollard said he agrees with president barack obama 'I don't want my son to play this game'

— Aaron Wilson (@RavensInsider) January 29, 2013
Ed Reed said Junior Seau signed up for the NFL dangers. Reed also said that he (himself) feels the effects of the blows.

— Ceese Carcieri (@CESPN1) January 29, 2013
Ravens and 49ers players had their fair share of fun at the expense of their coaches, John and Jim Harbaugh.
Bernard Pollard on why he likes John Harbaugh: "he's weird"twitpic.com/bzbs0m

— Lindsay Jones (@bylindsayhjones) January 29, 2013
My favorite part of media day- Jim Harbaugh coaching up the team pic +barking out orders. When he says 2 put the towels down-15 fly at him.

— Brett Dolan (@Brettdolan24) January 29, 2013
Joe Staley's Harbaugh impression was pretty great: twitpic.com/bzb3bh via @kevincmanahan

— USA TODAY Sports (@USATODAYsports) January 29, 2013
49ers Jim Harbaugh said he's not on "the Tweeter.'' Said Twitter, Facebook seem like a "modern-day diary. I was never a diary guy.'' #SB47

— Don Banks (@DonBanks) January 29, 2013
Harbaugh hit one of my check marks, quoting Shakespeare: "For he who sheds blood with me shall also be my brother." (King Henry V.)

— Tim Kawakami (@timkawakami) January 29, 2013
Not surprisingly, Katherine Webb was a big hit at the Superdome.
Katherine Webb, otherwise known as AJ McCarron's girl, is covering the SB for Inside Edition. Thanks, Brent.

— Matt Hayes(@Matt_HayesSN) January 29, 2013
Miss Alabama Katherine Webb now a member of the media. #SB47 twitpic.com/bzapr1

— Vic Tafur (@VicTafur) January 29, 2013
Katherine Webb getting interviewed at Media Day. I mean, obviously. twitter.com/bruce_arthur/s…

— Bruce Arthur (@bruce_arthur) January 29, 2013
Finally, Terrell Suggs won Media Day.
Suggs defines "Flaccoing" as keeping the same facial expression for 30 minutes.

— Chris Burke (@ChrisBurke_SI) January 29, 2013
Terrell Suggs says this Super Bowl is The Wire vs. Full House. So true.

— Rick Maese (@RickMaese) January 29, 2013
Terrell Suggs belted out "I Would Do Anything for Love" from Meatloaf. Seriously. #sbnola

— Larry Holder (@LarryHolder) January 29, 2013
For more NFL news, rumors and analysis, follow @EyeOnNFL on Twitter, and subscribe to our Pick-6 Podcast and NFL newsletter. You can follow Jameson Fleming on Twitter here: @JamesonFleming.