Ayanbadejo, Birk react to Chris Culliver's anti-gay comments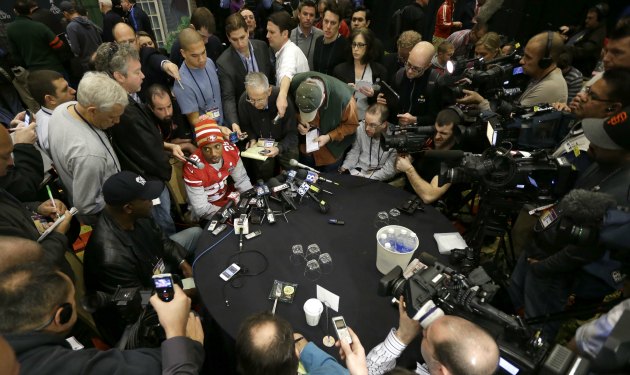 Culliver experienced a media crush on Thursday. (AP)
NEW ORLEANS -- Brendon Ayanbadejo figured he'd get some attention during Ravens media availability on Thursday, but the absolute crush of reporters that surrounded him and swallowed up his poor tablemate, Josh Bynes, surprised the Ravens linebacker.
Of course, Ayanbadejo knew about the gay-unfriendly comments made by 49ers cornerback Chris Culliver on Wednesday, and he probably knew that the San Francisco organization released a blunt statement soon after, repudiating his quotes while having a talk with Culliver about it. Ayanbadejo also could have predicted that Culliver spent Thursday morning meeting with the media and profusely back-tracking on his comments.
And while Ayanbadejo has tried to stop himself from talking too much about marriage equality this week -- though he's loudly and proudly discussed his pro-gay stance all season -- it was impossible to stifle himself after Culliver's dissertation.
"I'd say 50 percent of [NFL players] think like Culliver, 25 percent of the people think like me, 25 percent don't necessarily agree with all the things I agree with but they're accepting," he said. "It's a fight. It's an uphill battle. But we went from 95 percent who think like Culliver, so we're winning the fight."
On Wednesday, Culliver said, "No, we don't got no gay people on the team. They got to get up out of here if they do." On Thursday, he backed off those statements, saying, "I don't have [any] differences with other sexualities, just like that. Like I said, that's not what I feel in my heart and I treat everyone equal in any type of way. It's not how I feel."
Still, Ayanbadejo hears those hateful words all the time.
"I hear it every day," he said. "It's not just in the locker room. It's on my Twitter. It's on my Facebook. I'm not surprised, but that's why I speak so loudly. I truly believe in my heart that a sporting event will bring us all together. This is a nonfootball related story, but we're going to turn this into a positive thing. Culliver is going to turn it around and hopefully have the chance and opportunity to do that."
Ayanbadejo and a teammate, center Matt Birk, have had discussions about the marriage- equality issue. Clearly, they're not on the same side of this fight.
"Obviously on the issue of marriage we couldn't be further apart, but he's my teammate and I respect him," Birk said. "I've known him since before he was my teammate and continue to respect him. I just think he's wrong, and I'll just kind of leave it at that."
Said Birk: "I guess I could say this as many times as I want and people aren't going to believe you, but that's not a hateful attitude toward people who are gay. I have gay people in my life -- gay people in my life that I love. If you're asking me if I would accept a gay teammate: yeah, absolutely. It would be really not that big of an issue to me personally."
Ayanbadejo and Birk, though, do agree on something: Both say it will be difficult for a gay football player (and there are gay players out there) to come out of the closet in these times. Comments like Culliver's are one reason why.
"We know he's out there; we're just waiting for him to embrace it," Ayanbadejo said. "We're waiting for everybody to embrace it."
For now, though, the best thing that Ayanbadejo can do is embrace Culliver and help him through what has been a tough couple of days.
"I'll reach out to him when the time is right," he said. "I'll do what I can to help make the situation right."

For more NFL news, rumors and analysis, follow @EyeOnNFL on Twitter, and subscribe to our Pick-6 Podcast and NFL newsletter. You can follow Josh Katzowitz on Twitter here: @joshkatzowitz.