Johnny Knox retires, says 'I'm moving on and going forward'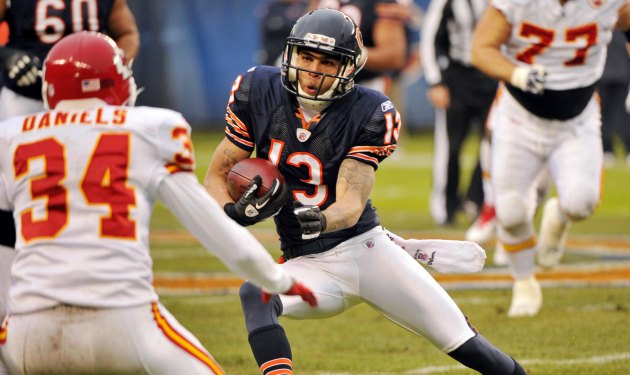 Knox's football career appears to be over. (US Presswire)
A day after the Bears terminated the contract of Johnny Knox , following his lost 2012 season, the receiver told the Chicago Sun Times that he's done playing football.
"As an athlete, you don't want to give up, you want to keep on fighting. That's how I've always been," Knox told the Sun Times' Sean Jensen. "But it's been on my heart for a while. I know how my body feels, and I know I'm not going to be the same and perform at the ability that I used to.
"So I'm moving on and going forward."
In three seasons in Chicago, Knox caught 133 passes for 2,214 yards and 12 touchdowns, and in his rookie season, he made the Pro Bowl as a kick returner. His future was bright.
But near the end of the 2011 season, he suffered a gruesome injury when he was smashed by Seattle's Anthony Hargrove as the two chased a fumble. Knox later described the injury as the worst pain he's ever felt.
He underwent spinal fusion surgery and missed all of the 2012 season. He had talked about making a comeback, but now that Chicago has released him it probably wouldn't have been easy for him to find a job.
Especially since, as Jensen describes, Knox is still limping and struggles to find a comfortable way to stand and sit.
More from the Sun Times (and you really should read the entire article):
Knox has diligently rehabbed, pushing himself to return to the field to continue his career. But there's no telling when -- or if -- the nerves will ever respond. The only time he's not in pain is when he's flat on his back.

Still, he's proud of how far he's come, even if he's not an elite athlete again.

"I was centimeters away from being paralyzed, so just sitting here and talking, I'm appreciative of that," he says. "Just the hard work that I had to put in. Just to be able to stay in and do everything in my daily life that I used to do."
The Bears ended up paying his entire salary for 2012, and though he was probably disappointed to be released Tuesday, he also was thankful for the team's support. But he knows now that it's over.
"It's time to retire and move onto the next chapter," Knox's close friend, Bill Horn said. "And it will be an incredible chapter."

For more NFL news, rumors and analysis, follow @EyeOnNFL on Twitter, and subscribe to our Pick-6 Podcast and NFL newsletter. You can follow Josh Katzowitz on Twitter here: @joshkatzowitz.