Chip Kelly on Asomugha: He has skills to be ... a football player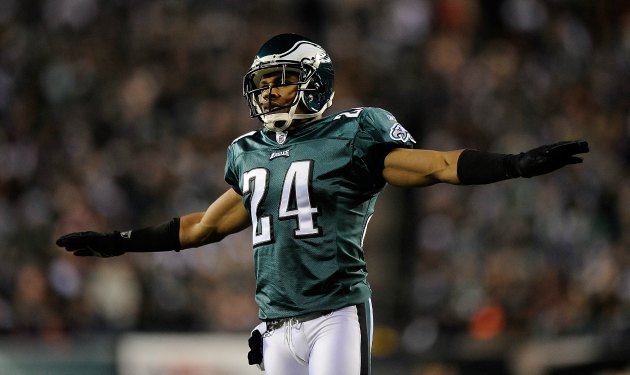 Asomugha is in the middle of a five-year, $60 million contract. (Getty)
Eagles cornerback Nnamdi Asomugha hasn't had a great couple of years.
When he left the Raiders after the 2010 season, he was considered to be the second-best corner in the league behind Darrelle Revis. As a result, Philadelphia bestowed upon him a five-year deal worth $60 million ($25 million of that was guaranteed). And, just as quickly, Asomugha has sunk into mediocrity -- or worse.
A CSN Philly report this month opined there was a good chance that Asomugha and his $15 million base salary for 2013 would be released before the season. When new Philadelphia coach Chip Kelly was asked about Asomugha on Thursday at the NFL combine, he had this to say:
"I think Nnamdi has the skills to be ... a football player."
In a word: ouch. In another (hyphenated) word: uh-oh.
But Kelly makes a good point. If you've watched Asomugha play with the Eagles over the past two seasons, you can see that he either was vastly overrated in Oakland or his skill level has turned 180 degrees in the wrong direction.
Here's what Pro Football Focus' Sam Monson thinks.


@joshkatzowitz He was never as good as people claimed in OAK, but they played exclusively man. He can't play zone.

— Sam Monson (@PFF_Sam) February 21, 2013
@joshkatzowitz Also played almost entirely RCB in OAK, QB's less targeted side, hid him. QBs just went after other crappy CBs on open side

— Sam Monson (@PFF_Sam) February 21, 2013
@joshkatzowitz I can't remember ever seeing a CB with as bad a feel for zone coverage as Nnamdi has.

— Sam Monson (@PFF_Sam) February 21, 2013


I imagine Kelly can see the same types of thing on film, which might be why he appears to have paid Asomugha the ultimate non-compliment.

For more NFL news, rumors and analysis, follow @EyeOnNFL on Twitter, and subscribe to our Pick-6 Podcast and NFL newsletter. You can follow Josh Katzowitz on Twitter here: @joshkatzowitz.