Peyton Manning, Cowboys cheerleaders visit troops overseas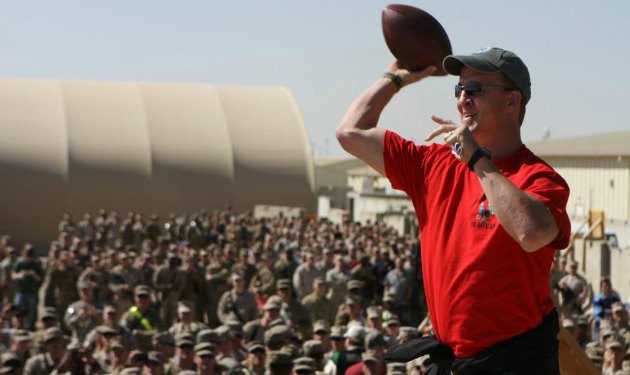 Broncos quarterback Peyton Manning, free-agent receiver Austin Collie and Buccaneers receiver Vincent Jackson (along with Colts quarterback coach Clyde Christensen and former major league pitcher Curt Schilling) are in Afghanistan visiting troops as part of a USO trip, and while at Camp Leatherneck, Manning made sure to get in a workout.
Via a first-hand written account by Sgt. Bryan A. Peterson on the Broncos' official website, Manning during a Friday appearance selected two Marines and a soldier to catch passes from him. It, um, didn't go so well.
From the piece:
Lance Cpl. Terrill M. Clark, a Brookshire, Texas, native and an administrative clerk with RCT-7, was shocked when his name was called. He said he had butterflies walking up to the stage.

"I was nervous, I won't lie," said Clark.

"Knees, knees," Manning yelled to Clark, signaling get ready to turn around for the pass.

"Football," Manning said. As Clark turned around, the football flew past his head.
The second attempt went a little better. After Manning said he'd give Clark another shot at catching the ball, Clark juggled the pass but eventually secured it in his hands. For a brief second, Clark was an even better pressure pass-catcher than Collie.
"I was a little embarrassed when I dropped the ball," said Clark, "but who can say they caught a ball from Peyton Manning?"
Not surprisingly, the two Cowboys cheerleaders in attendance reportedly drew the biggest cheers of all on the day (Actually, that is a little surprising. I'd have thought Manning would be the biggest draw. But I also haven't been in a war zone for an extended time without female companionship, so I really wouldn't know either way).
Before leaving, Manning presented an autographed football to Maj. Gen. W. Lee Miller, the Regional Command Southwest commander, before the players and (most sadly) the cheerleaders left for the day.
"I want you to have this football to remind you guys we are thinking about you and praying for y'all to return safely," Manning said.

For more NFL news, rumors and analysis, follow @EyeOnNFL on Twitter, and subscribe to our Pick-6 Podcast and NFL newsletter. You can follow Josh Katzowitz on Twitter here: @joshkatzowitz.