Baltimore sends thank you to city of New Orleans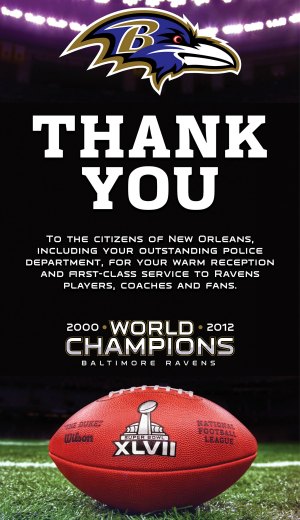 This thank you appeared in New Orleans' newspaper. (Baltimore Ravens)
With the Ravens readying themselves to begin the tough life of a football dynasty (or as CBSSports.com's Mike Freeman wrote, they're about to be a pain in the ass for "a long, long, long, long, long time"), Baltimore is looking back to New Orleans for one last thought about its Super Bowl XLVII win against the 49ers.
And in doing so, the Ravens come bearing thanks -- and gifts.
The team announced Wednesday it had sent its gratitude to the Super Bowl host for "its hospitality, friendliness and service" by donating two 2013 Harley Davidson FLHP motorcycles to the New Orleans Police Department. It's a fitting thank-you gift because of the immense number of police escorts the team received during Super Bowl week.
"We wanted to do something to show our appreciation for how well our team, our families and our fans were treated by everyone representing New Orleans," owner Steve Bisciotti said in a statement released by the team. "Every place we went, the good people of New Orleans treated us with kindness and tremendous service -- across the board. It started in our team hotel, continued with the police and included many in the hospitality industry. The people of New Orleans were great."
In a press conference Wednesday, Ravens receiver Jacoby Jones presented the gift. Aside from his ridiculous 108-yard kickoff return to open the second half, Jones also is a New Orleans native (not to mention a tattoo enthusiast who's getting 7-1 odds to win an upcoming dancing reality TV show).
"I always talk to my teammates about Southern hospitality, and the fact that it was on display enough during our Super Bowl week to have the Ravens donate something to the great people of New Orleans is special," Jones said. "Winning the world championship in my hometown and then being able to do something to help the people who protect it is a great feeling."
The Ravens also took out an ad in the New Orleans Times-Picayune (as seen in the photo above and to the right) to send the city's residents a thank you of their own. The citizens' response, of course, being: "Hey, Bisciotti, where the hell is my motorcycle?"

For more NFL news, rumors and analysis, follow @EyeOnNFL on Twitter, and subscribe to our Pick-6 Podcast and NFL newsletter. You can follow Josh Katzowitz on Twitter here: @joshkatzowitz.