Robert Kraft: 'I love the Tuck Rule and forever will'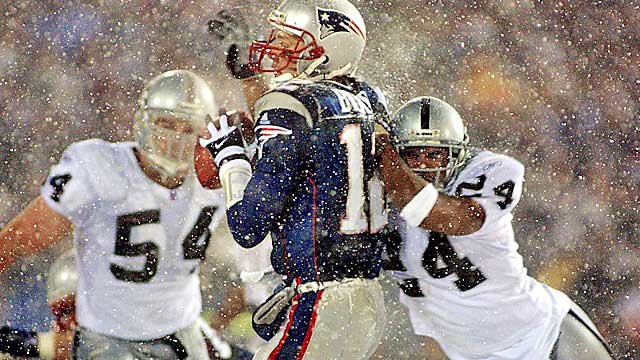 PHOENIX -- No one thinks the Tuck Rule makes any real sense. That's why the NFL is considering getting rid of the controversial rule, best known for altering the outcome of the Patriots-Raiders playoff game in 2001.
One person who won't likely be voting against it, though, is Patriots owner Robert Kraft. Kraft, while speaking at the NFL owners meetings in Phoenix, professed his love for the Tuck Rule.
"To be honest, prior to the snow game, I never knew what the Tuck Rule was," Kraft said. "I love the Tuck Rule and forever will."
It's a very good bet that the owners vote to eliminate the Tuck Rule. But they might not get a vote from everyone involved.
"I might have to abstain," Kraft said.
The Tuck Rule is utterly ridiculous: It doesn't make much logical sense to have an impossibly difficult to interpret set of circumstances surrounding whether a passing attempt is incomplete or a fumble.
This is precisely why the NFL is willing to dump the rule. Just don't expect Kraft to vote against it.