RB Ahmad Bradshaw won't work out for teams until he's healthy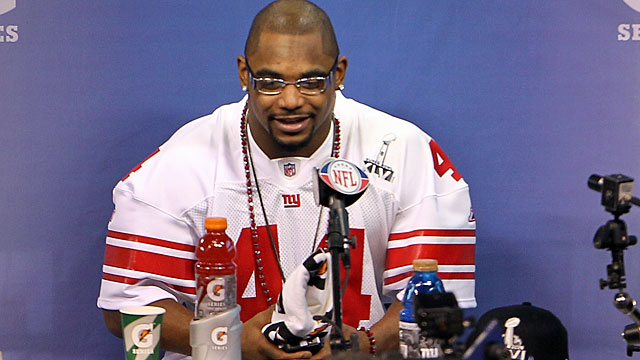 Heading into the offseason, former Giants running back Ahmad Bradshaw was ranked No. 37 on our top-100 free agents list. But his name hasn't been bandied about in the offseason rumors talk.
The Giants released Bradshaw last month given his foot problems and the potential of 2012 first-round pick David Wilson. Though there was apparently some interest from the Jets, that destination for Bradshaw almost immediately was ruled out.
Now, Bradshaw said he won't work out for teams until he's truly healthy. Which means we might not see anybody give him a chance Bradshaw until much later in the offseason. Still, Bradshaw told the Newark Star-Ledger there are three teams that remain interested in him: the Jets, Steelers and Packers.
"[There] are teams that I feel like need a running back, that I could help," Bradshaw said on ESPN radio on Wednesday, via the Star-Ledger. "… Like I said, it's a process. I just want to take it slow."
Bradshaw also said a return to the Giants was a possibility. He had been scheduled to make $3.25 million in 2013. Though he accumulated at least 900 yards per season since 2009 (and helped New York to the Super Bowl XLVI title), the team cut him, in large part, to shed itself of his salary.
"I saw it coming because of the money," Bradshaw said last month. "Everything is about money, I guess. So, yes, I was expecting it. I'm not discouraged at all. I'm just looking towards getting healthy and working with somebody else. That is all I can do."
The problem for Bradshaw is that, though he's still a relatively young 27, he has struggled badly with his right foot. He had offseason surgery on it again in January, when doctors inserted a large screw to stabilize the foot. The recovery period was expected to be 10 weeks, which explains why Bradshaw hasn't worked out for anybody and why the market on him is so slow.
"I want to be as healthy as I can be, I want to be explosive and I want teams to see what they are able to get," Bradshaw said. "Right now, I'm working on that, and I think it's coming along faster and faster."