Tim Tebow not interested in talking to media
As the Jets determine what to do with Tim Tebow heading into 2013, the best-known backup quarterback in the history of the world was in Corpus Christi, Texas to deliver a motivational message on Wednesday at the local Double-A ballpark, Whataburger Field.
Tebow appeared at an event for the YMCA and Miracle League of Corpus Christi to discuss his passion (he dropped a Braveheart reference) and, afterward, he engaged the audience in a Q&A session. I imagine the speech was a big success, because, in part, audience members like 11-year-old Martha Mendoza said (via the Corpus Christi Caller-Times), "It's the first time I've gotten to meet someone famous."
Unfortunately, that kind of accessibility didn't apply to the media covering the event.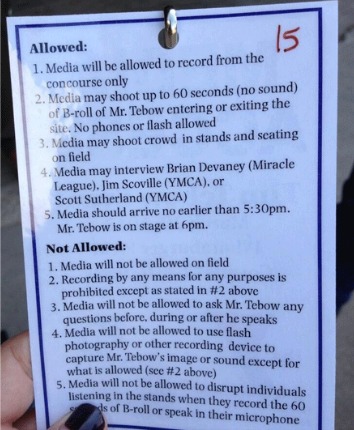 As Jim Romenesko points out, reporters were allowed to shoot 60 seconds of Tebow entering and exiting the field for B-roll and without sound.
But here's what they weren't allowed to do: they couldn't ask Tebow any questions, they couldn't record any of his comments, they couldn't use flash photography "to capture Mr. Tebow's image," and they weren't allowed "to disrupt individuals listening in the stands" (that last point was especially galling, I'm sure).
Part of the reason why Tebow (or Tebow's people) probably didn't want to engage with reporters is because he was recently embroiled in a controversy after he agreed to speak at a Dallas megachurch, whose pastor has spoken out against Muslims, Jews, Mormons and homosexuality (Tebow eventually backed out of his commitment).
All of which is unfortunate. Mostly because I really wanted to hear Tebow's thoughts on possibly joining the Orlando Predators. Or, um, on being Tony Romo's replacement?