Report: Michael Bennett played with torn rotator cuff in 2012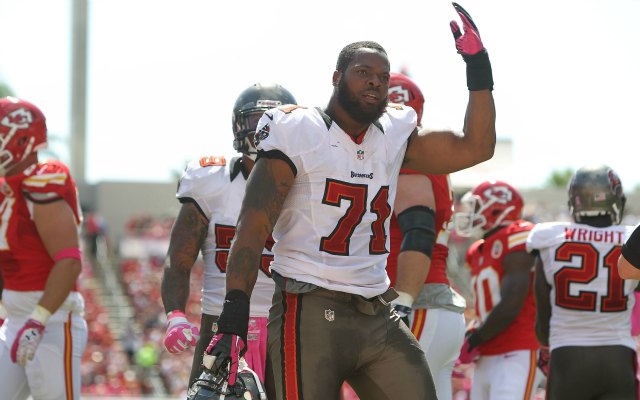 Earlier this month, defensive end Michael Bennett signed a one-year, $5 million contract with the Seahawks, and at the time, the deal seemed awfully team-friendly. Some of us thought the relatively-cheap contract for a quality defensive end had something to do with a soft free agency market. But turns out, that might not be the only reason.
According to ESPN's Adam Schefter, Bennett has a torn rotator cuff, and that was one of the reasons his contract is perhaps lighter than it should have been (with both the money and the length).
Reportedly, Bennett played with pain in his shoulder all last year, though he still managed to record a career-high nine sacks in 2012 and started all 16 games for the first time.
When Bennett didn't re-sign with the Buccaneers, he expressed surprise at their supposed non-interest.
"They acted like they didn't want me, so no, I didn't go back to them," Bennett said after signing with Seattle. "I just didn't feel any love from them at all. And that's kind of disappointing, because for a team that you put everything you had into for four years to do that, you're just kind of, 'OK, whatever.' You do everything you can to grow as a player and get better as a player and you prove yourself over and over again for them, but I guess that's just who they are."
Now, the Buccaneers might have had a reason why they were cool on bringing back Bennett, though it also seems rather cold not to reward a guy who played hurt all season but still managed to have a career year.
Either way, there's no word on whether Bennett will undergo surgery on his shoulder or how long that could keep him out.