Eagles sign hard-luck college WR Ifeanyi Momah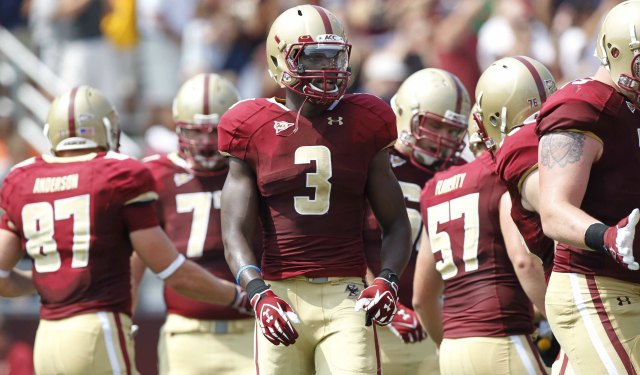 Wide receiver Ifeanyi Momah was a fifth-year senior at Boston College when he tore his ACL in the first game of the 2011 season after catching eight passes for a career-high 157 yards. When Momah's application for a sixth year of NCAA eligibility was denied, his pro prospects appeared bleak. Particularly since he couldn't participate in Boston College's pro day last year and since he went undrafted.
But, somehow, after spending the 2012 season out of football, he worked out earlier this month with 11 of his former teammates and apparently did enough to impress the NFL's Eagles, who announced Saturday that they had signed the 6-foot-7 Momah to a three-year contract.
Momah only accumulated 39 catches in his college career to go with 629 yards and six touchdowns -- he also played some defensive end while at BC -- but the Eagles evidently have seen potential in him, making Momah the 13th receiver on their roster.
So, what would it mean to Momah, who started his career at Boston College playing with Matt Ryan, to get a shot at the NFL?
"It would mean everything," Momah told the Metro West Daily News after his pro day. "This whole year, I've just been working hard, just for this opportunity …
"It's honestly a blessing. Last year I was out here and I couldn't do anything, with my knee. That hurt; it was tough for me. That whole year off of training and working out, I had a fire in my chest to keep working so I could come here the next year and give it my all. I was happy how it turned out today, able to do what I was doing before the injury. I feel like my old self again."
You'd have to consider Momah a longshot to make the roster. But, hey, at least he's getting his chance. At least he'll get an opportunity to make an impact on the new coaching staff. That's probably more than he could have expected this time last year.