Report: Eric Wright, Buccaneers likely will agree to restructuring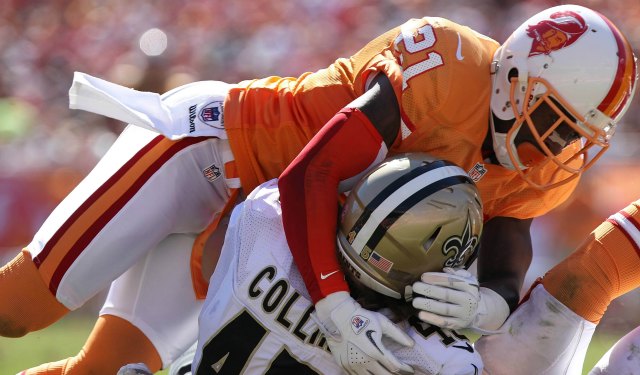 The Buccaneers had the worst pass defense in the NFL last season, and with the addition of safety Dashon Goldson last month for five years and $41.25 million, the team has begun rectifying that weakness.
Now, Tampa Bay is focused on cornerbacks. Probably because the depth at that position is awfully thin.
According to the Tampa Bay Times, the team was meeting Tuesday with Eric Wright in an effort to restructure his contract, and it "appears likely" he'll sign a new deal in order to keep his current job.
You might recall that Wright, after signing as one of three major free agents along with guard Carl Nicks and receiver Vincent Jackson before last season, was suspended four games for the use of Adderall. That came on the heels of Wright being arrested on a felony DUI charge the offseason before, and there was speculation that the Buccaneers could release him.
Reportedly, though, Wright met with coach Greg Schiano and general manager Mark Dominik in an effort to work through issues. And the most likely issue was Wright losing his appeal to keep his 2013 salary of $7.75 million (in his original contract, the 2012 and 2013 seasons were guaranteed, but when he tested positive for PEDs, that guarantee for 2013 was voided).
So, it sounds like Wright is headed back for another season with the Bucs. He just likely won't be as rich as he originally thought.