Joe Theismann contacts injured Louisville G Kevin Ware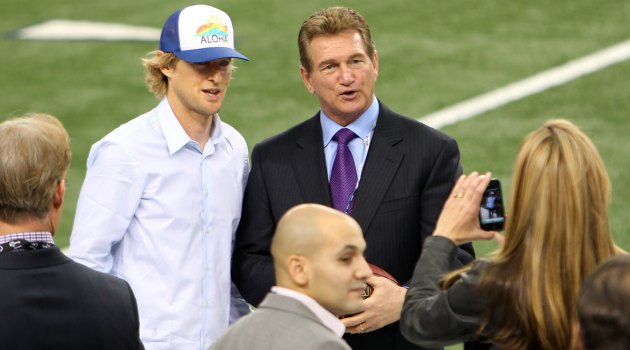 A few minues after Louisville sophomore guard Kevin Ware badly broke his leg in the Elite Eight game against Duke last weekend, Joe Theismann sent out a knowing and heartfelt tweet.


Watching Duke/ Louisville my heart goes out to Kevin Ware.

— Joe Theismann (@Theismann7) March 31, 2013


Since then, Theismann -- who retired prematurely from the complications of suffering a compound leg fracture during the Redskins' Monday Night Football game against the Giants in 1985 -- has done even more for Ware, sending him text messages to help Ware deal with the fallout from his devastating injury.
"Coach [Rick] Pitino was kind enough to help me out in getting in touch with Kevin. I felt so bad for him and I want to try to offer, as much as I can, support to him from an emotional standpoint," Theismann told The Mighty 1090 in San Diego (via sportsradiointerviews.com). "… He certainly doesn't need me for anything at this point, but maybe down the road a little bit, some things may come up in his rehab or some questions may come up. … Unless you've actually been through something, you don't know the physical and psychological impact that the recovery has."
So, did Ware actually know who Theismann is?
Reported Theismann: "[I said], 'Go to YouTube.' … He said, 'Thank you, I appreciate it so much.'"
As for the aftermath of the injury, Theismann talked about how impressed he was with Pitino's handling of his team and that he'll watch the Cardinals this weekend with plenty of interest. As for his own leg injury, he's certainly not forgotten the night it happened.
"The night lives with me quite often because people will come up all the time and ask me how the leg is. That's the No. 1 question," Theismann said. "… Seeing what happened to Kevin took me back to Nov. 18, just like it was yesterday. The faces around me, the smells, the sounds, the moisture on my back, it was all right there very vivid once again in my mind. In living through it again, it just sort of drove a point home to me that if there's anything I can do to help this young man.
"For me, the first thing that I did. Bubba Tyer came out, our trainer … and I said, 'Bubba, call my mom and dad and tell them I'm OK.' And then as they put me on the stretcher, there was a lot of activity. I never saw my leg. … When I got to the hospital, when they moved me from one gurney to another, they forgot to pick up the lower part of my leg. … My right leg just sort of dropped down."
So yeah, Theismann knows exactly what Ware went through. And here's hoping, no matter what you think about Theismann as a football analyst, that he can provide Ware just a little bit of comfort during this turbulent time.