Redskins QB Kirk Cousins welcomes the addition of Pat White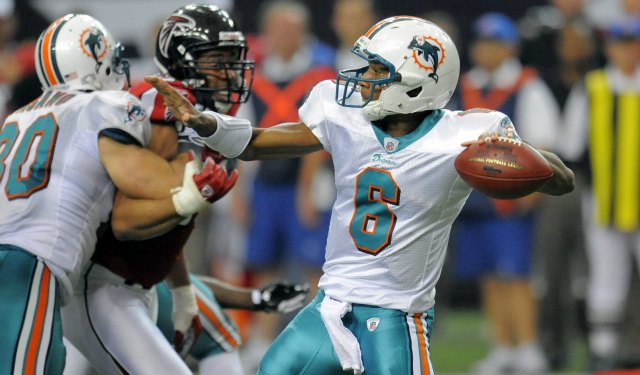 If you figured Redskins backup quarterback Kirk Cousins would be upset with the team signing former wildcat specialist Pat White to a deal, well, it sounds like that's not the case at all.
In fact, it makes perfect sense to Cousins, especially considering we're still uncertain if Robert Griffin III's knee injury will allow him to play in Week 1 of next season.
"I felt like with Robert's health where it is right now, to be able to have a guy who can do some of the thing[s] Robert does athletically would be important, especially in this offseason time when you're trying to stay sharp and develop your base playbook and improve your base playbook," Cousins said. "While I believe [I] can to some degree run those kind of things, the zone-read stuff is going to be much better with a Pat White-type athlete in there who's closer to Robert's skill set."
At this point, it makes sense that if Griffin can't play early in the season, Cousins will be the one to start games. After all, he performed well in Griffin's absence last season, completing 68.8 percent of his passes for four touchdowns and three interceptions and winning the only game that he started.
But for offseason workouts, where it's doubtful Griffin will have any kind of impact, White could be of good use.
"I think that's a no-brainer to have a guy like that in at least for OTAs, if not longer," Cousins said. "A guy like me, I need to be much more perfect in my ball-handling and in my reads for it to work than maybe a Robert or a Pat White has to be. Now, that being said, I didn't have any reps in college with those plays, and so my ability to be more perfect is not there, whereas Robert had all these reps in college working on these plays. And so it just became a deal where I'm not comfortable running those plays at this current time last season.
"But with OTAs and minicamps and training camp, I believe if the coaches want me to, I can gain a comfort level with these plays, where I can be fast enough to have them be effective. And once at least there's a threat of those plays being run with me in the game, it does change a lot of things for a defensive coordinator, and so it's worth it to explore."
Still, the thought of White possibly beating out Cousins to take over the backup spot seems a little far-fetched. In fact, White making the team (he'd likely have to beat out Rex Grossman, who just re-signed with Washington) also seems unlikely to occur.
Which might be why Cousins doesn't seem upset about the signing in the first place.