Just Because: Unitas' 1958 title game result leaves scribes smokin'
With all the recent talk about how Joe Flacco is set to play Johnny Unitas in an upcoming movie on Unitas' life, some have said that kind of casting is an embarrassment. In fact, we've already had an imaginary conversation that showed Unitas wouldn't have loved the choice either.
For a second, though, let's forget all that and give you a taste of why people think other people would want to watch a movie about Johnny U. Well, his career stats might be one reason people consider him the greatest quarterback of all time (even better than Sammy Baugh, though?) and, thus, biopic-worthy. Or what Unitas accomplished in the 1958 NFL championship game that cemented his legacy just three years into his career could be interesting on the silver screen.
Just because, take a look at what he did that cold December day.



A few things:
1) WATCH OUT for that goal post on your touchdown run, Mel Triplett. Not only are the posts on the goal line, a runner or pass-catcher has to contend with two of them while scoring a touchdown. With those double posts, it's almost like they're playing on your old high school's practice football field.
2) What I wouldn't give to have an announcer's voice like Ed Herlihy -- who, when he died, was called the "voice of cheer and cheese" in his NY Times obituary.
3) Why can't fans throw ticker tape after every modern-day NFL touchdown?
4) Much like Flacco during his 2012 season playoff run, Unitas came up clutch in the game's biggest moments.
5) As a bonus, here's an image of the scribes talking to Unitas in the locker room after the game. Note: the gloves worn by the reporter when he's interviewing Unitas (strange, because I imagine the Colts locker room was actually indoors) and the cigarette (!) he's smoking while taking notes. My only wish: that the hat the reporter is wearing actually had a card reading "press" stuck in the band.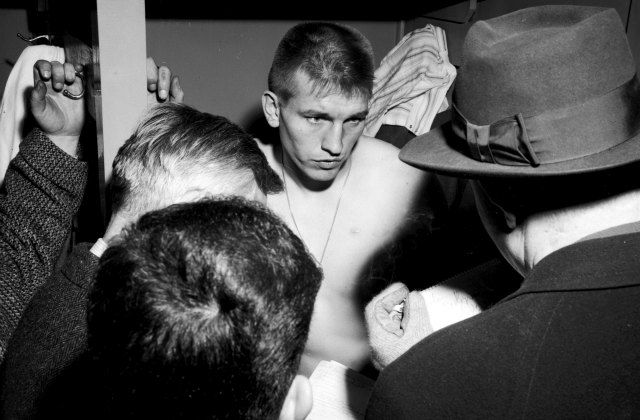 And, again, just because: here's a close-up of the cigarette in action.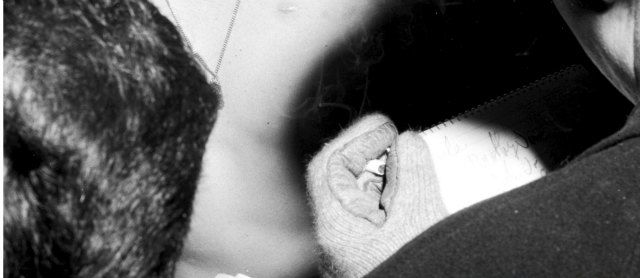 And just for the hell of it: here's a super extreme close-up of the cig.