Ralph Wilson's wife says his goal is to attend the Bills home opener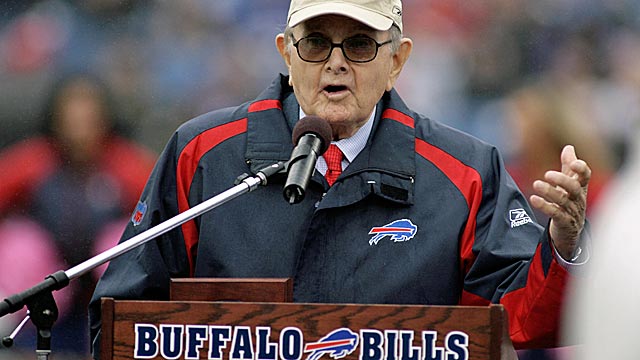 The oldest owner in the NFL is going to try his hardest to make it to his team's home opener next season and, according to his wife, he's doing well to overcome some health problems.
Mary Wilson, the wife of 94-year-old Bills owner Ralph Wilson, told the Buffalo News that her husband is doing his best to attend his first home game since 2011. Ralph Wilson missed all of last season with health issues. The most recent game that he attended was on Nov. 6, 2011, when he was recovering from a broken hip.
"He's doing really well," Mary Wilson said. "He's great. Today is Friday, so he's going to work out with his trainer. Our goal is opening day. Ralph wants to make the home opener."
A few months back, Ralph Wilson ceded control of the franchise to Russ Brandon, saying in a statement: "These past 13 years have been very difficult on our fans and we have not produced the type of winning team that they deserve. It has been frustrating for our organization and for me as well. We want our team to be one that our fans are proud of."
Wilson has been the franchise's sole owner since it was founded in the AFL in 1960.