Broncos CB Champ Bailey not looking to move to safety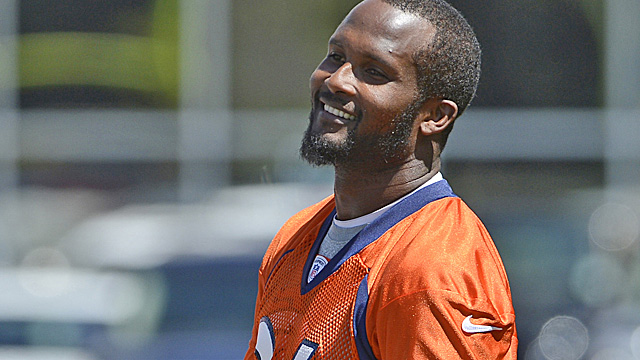 The last time we saw Broncos cornerback Champ Bailey on the field, he was getting torched in the playoffs by Ravens receiver Torrey Smith as Baltimore knocked off Denver en route to its eventual Super Bowl title.
But lest you think this represents some larger problem with Bailey's declining skill-set, he's not sure he agrees with you. And if you think maybe he should think about moving to safety (where some good cornerbacks who have lost cover skills wind up), he definitely disagrees.
It's funny, though. The Denver Post asked him about a potential position change before last season, and Bailey said, ""maybe into my 16th season or around there … I'm a realist, though. If I see myself on tape and I think it's time to make a move, I'll know it's time to make a move. I'll be the first to see it, I'll be the first to know it. Maybe when I'm 36."
Bailey is entering his 15th season, and he turns 35 in a few months. Reminded by the Post about his statement from last year, Bailey smiled and said, "Hey, until these young guys start doing something, I'm not taking a back seat to them. Later on, maybe, but right now I still feel like I can play at the level I expect and the level they expect me to at corner. Besides, I'm not even close to 36. I'm 34."
All jokes aside, Bailey is still, at worst, a solid cornerback. Yes, his performance against Smith, in which Smith caught two touchdown passes against Bailey, was bad, and yes, it was on national TV for all to see. But Pro Football Focus ranks him as the 10th-best cornerback last season after quarterbacks throwing his way in the regular season mustered a rating of 67.3 while passing for only one touchdown against him. He's still one of the most-feared cornerbacks out there.
"When I looked at it, I did OK last year, but I just feel like I left a lot of plays out there," Bailey said. "I think, you just have to make those plays, us as a defense and me personally. When we have the chance to turn a game with a turnover, we have to make those plays. We have to have those kinds of plays at key times. Don't leave anything on the table."
And don't put him at safety. For now, Bailey is just fine where he is.