Just Because: Billy Cannon, the ultimate first-round draft pick
Since the 2013 NFL Draft kicks off tonight from Radio City Music Hall in New York, let's remember a time when the rookie selection proceedings were not televised and when a player could get drafted in the first round by two different teams in two different leagues.
Like, say, the 1960 draft when LSU halfback extraordinaire Billy Cannon was taken No. 1 in the NFL Draft by the Los Angeles Rams and was grabbed in the first round of the AFL Draft by the Houston Oilers. The lengths Oilers owner Bud Adams went to convince Cannon that he should become the first-ever star in the brand-new American Football League is pretty awesome (hey, Mr. Adams, I could use a Cadillac as well!).
Anyway, Cannon went with the AFL, and as it turned out, he had a solid, but not great career before legal problems landed him in prison.
But Cannon still helped the Oilers win the 1960 AFL title, and in the picture below (via talesfromtheamericanfootballleague.com), you see Adams congratulating his star after a hard-fought victory in which Cannon caught an 81-yard touchdown pass from George Blanda that finished the scoring in Houston's 24-16 win against the L.A. Chargers.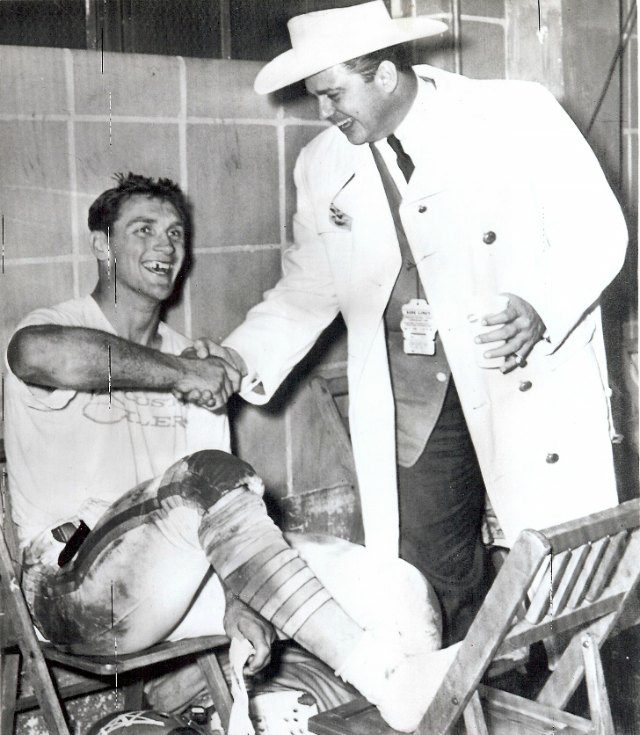 And as a bonus, here's video footage of Cannon receiving his Heisman Trophy from Vice-President Richard Nixon in 1959.