Giants FB Henry Hynoski to undergo surgery on MCL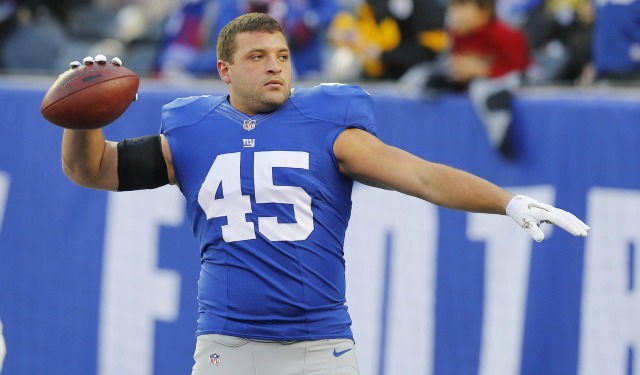 Giants fullback Henry Hynoski was injured at the team's first OTA practice Wednesday after banging knees with running back Andre Brown. On Thursday, the team announced Hynoski will undergo surgery on his left leg.
Which means Hynoski likely will miss all of the team's offseason workouts.
From the team's release:
"The exam and tests showed that Hynoski suffered an injury to his medial collateral ligament and a chip fracture to the lateral plateau. Hynoski will undergo surgery on Friday to repair the ligament and the fracture."
Hynoski, though, is interested in returning by Week 1.
"I am going to set my mind to being ready for the first game of the regular season," Hynoski said in the team statement. "They said that is not an unrealistic goal, and I will do everything in my power to be ready for the start of the season."
Most likely, Bear Pascoe, the tight end who can also fill in at fullback, will replace Hynoski.
Hopefully for Giants fans, Hynoski will be back to doing his Rhino end-zone celebration before you know it.