Robert Griffin III makes throws, 'looks good' at Redskins practice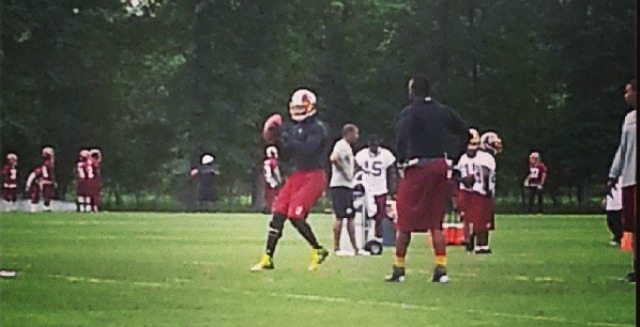 Though we're a long way from Week 1 and the first part of OTAs is a far cry from the rigors of even preseason games, Redskins fans have to be rejoicing this fact: Robert Griffin III is on the practice field and throwing footballs.
According to USA Today's Jim Corbett, Griffin has "decent mobility" and "looks good on handoffs" and dropbacks while he sports a heavy knee brace. Others report that Griffin also is planting on his foot, which is another good sign.
Griffin, though, was on the side, throwing to other rehabbing players like tight end Fred Davis and receiver Pierre Garcon, so it's not like he's immediately ready to step in and run plays.
"We've been doing some groundwork trying to get healthy ... trying to get ready for the season," Griffin told reporters after the practice, via the team's Twitter feed. "Explosive sprinting is in the next couple weeks and cutting is a few weeks after that. [The] goal is to be ready for training camp."
Yes, but are you going to change the way you play the game? Maybe use a little more caution?
"Everyone says I need to change the way I play," he said. "It's limiting those hits and being careful for my teammates."
But still, considering this is how Griffin ended his rookie season, it'd be tough to dispute that Griffin isn't making real progress in his rehab. Which, I'm sure, would warm the heart of Tiger Woods.