Flacco agent on Ravens talks: 'Never in my life seen a dumber move'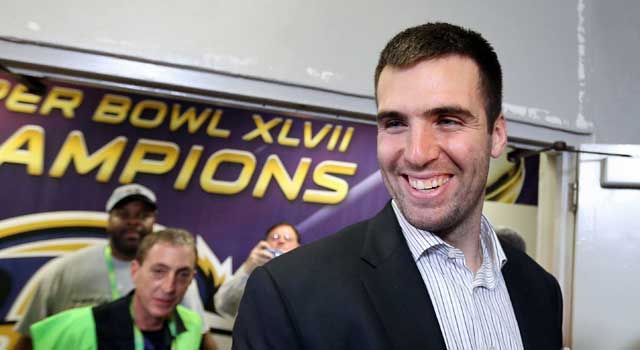 Soon after the Ravens and quarterback Joe Flacco agreed to a $120.6 million contract, it was reported that the reason the two sides didn't come together before the 2012 season was because they were $1 million apart.
As I wrote earlier, that's not $1 million per season. That's $1 million total.
Perhaps the Ravens were gambling that Flacco's play in 2012 would cause his market value to tumble, just like Flacco was betting the opposite. But after he played some of the best ball of his career in the 2012 playoffs en route to the Super Bowl title (and the game MVP to boot), it was clear that Baltimore's gamble had turned sour.
Or you could frame it this way, as Flacco's agent, Joe Linta, did to USA Today.
"I've never in my life seen a dumber move," Linta said. "I guess people can say, 'Well, Joe was dumb, too.' It could have been [dumb], God forbid, if he got hurt. But $1 million to [Ravens owner] Steve Bisciotti six years from now? That's like 100 bucks for you or me today."
Linta apparently was responding to the criticism that Flacco was being selfish because his contract will take up so much of the Ravens' salary cap room -- which might have forced former Ravens stalwarts Anquan Boldin, Paul Kruger, Dannell Ellerbe and Ed Reed to find better-paying jobs with other teams.
But if you think Linta blames his client, well, you'd be wrong. Consider how artfully he puts it when he talks about the disparity during the original contract talks that Linta says would have yielded Flacco $16 million per season for five years (Flacco's new six-year deal averages more than $20 million).
"[The deal blew up because of] $1 million six years from now, in the base salary non-guaranteed money, and they walked away," Linta said. "It cost them $35 million. So I have no sympathy. None."
OK, we get it. Linta thinks the Ravens made a bad move by not signing his client earlier. But really, why is Linta bringing this up now? Maybe he's trying to make himself seem like a bad guy to deflect whatever criticism that Flacco is receiving. But insulting the team that has made Flacco a very rich man (and put a significant chunk of change in Linta's wallet, as well) doesn't seem like a smart move to me, either.
This year, Flacco's cap hit is only the fourth-highest on the team at $6.8 million. In 2014 and 2015, Flacco's numbers will be $14.8 million and $14.55 million, respectively (which is still lower than Haloti Ngata's $16 million hit for both seasons).
But 2016 becomes a real problem, because Flacco's cap number will be $28.55 million, and it's almost guaranteed that the two sides will have to renegotiate his deal at that point. Again, Linta doesn't care.
"I'm not apologetic for the fact this is really a three-year deal. There's no way they can afford $29 million a couple of years from now,'' Linta said. "I'm not apologetic. They chose to walk away."
That's true. Of course, if Flacco had been terrible last season and was now playing for, say, $12 million per year, Linta and Flacco would be the ones who look dumb. I imagine, though, the Ravens wouldn't have called them that in print.