After two offseason arrests, Bears cut FB Evan Rodriguez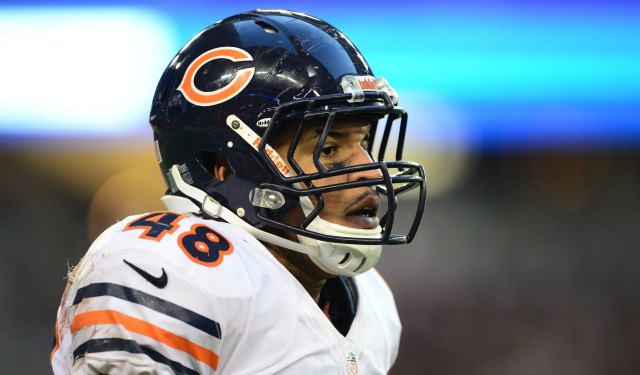 In March, Bears fullback Evan Rodriguez was arrested and charged with disorderly intoxication. In May, Rodriguez was arrested and charged with DUI, speeding and improper lane change.
After both incidents, Rodriguez released statements that expressed his regret, and the first charge was eventually dropped. Not good enough to keep him employed in Chicago, though.
The Bears announced Monday that they have waived Rodriguez (along with receivers Demetrius Fields and Dale Moss), and though the team didn't make a statement specifically about Rodriguez, it's not hard to determine why Rodriquez is no longer with the squad.
"Certainly was disappointed in his arrest," Bears general manager Phil Emery said in April after his first arrest. "Certainly Evan knows that I was disappointed. He was re-educated on my expectation of a Chicago Bear on and off the field, and I certainly expect good things from him. He was in the middle of having a really good offseason. He was down training with Brandon [Marshall].
"They were having some really good sessions. He made an error in a decision as far as where he was at, time and place. Fortunately, there's been no case moving forward, but I was disappointed in him. He's aware of that, and we expect big things from him in terms of improving."
Last week at team OTAs, Emery said he was "extremely" disappointed in his 2012 fourth-round draft pick, though he also called Rodriguez a likeable guy. But Emery also said "we drafted him with roles in mind and we were working toward fulfilling that and will continue to do so." That could have led one to believe that Rodriguez would keep his job after his second run-in with the law.
Obviously, however, that didn't happen.
"I just have to face the music," Rodriguez told reporters last week. "Anything that's going to happen, I just have to handle it and be a man about my whole approach about everything.
"Just [have to be] more responsible, and I have to hold myself more to a higher standard and be more accountable for my actions."
If that's going to happen for Rodriguez, it looks like it won't be happening in Chicago.