PHOTO: Terrell Suggs likes Hangover II and other classic movies
Only the finest professions in this finest of countries affords the opportunity to watch movies on the job. Security guard. Substitute teacher. Projectionist. Add NFL superstar to that mix.

Not just any NFL superstar, but Terrell Suggs, Super Bowl superstar from the Ravens of Baltimore.

And he was kind enough to share his movie collection. Our tour guide? The mononymous, Stash.

Here's Suggs' library: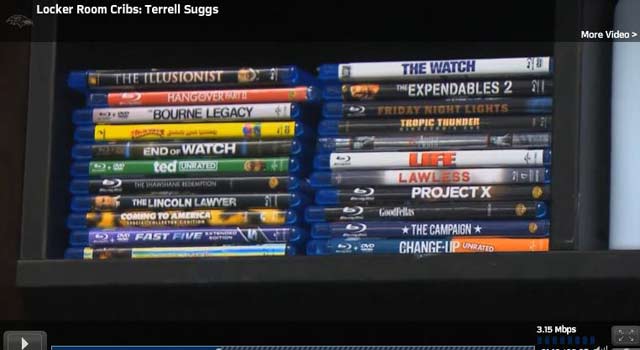 I for one am aghast with the lack of Will Ferrell vehicles in this criterion of all collections.

However, I'll let you, young disciple of Jay Sherman, judge his tastes. I also hope to get some help filling in the unknowns (last movie on left side and movie between Tropic Thunder and Life on the right side).