Colin Kaepernick doesn't mind if you're upset with his Dolphins hat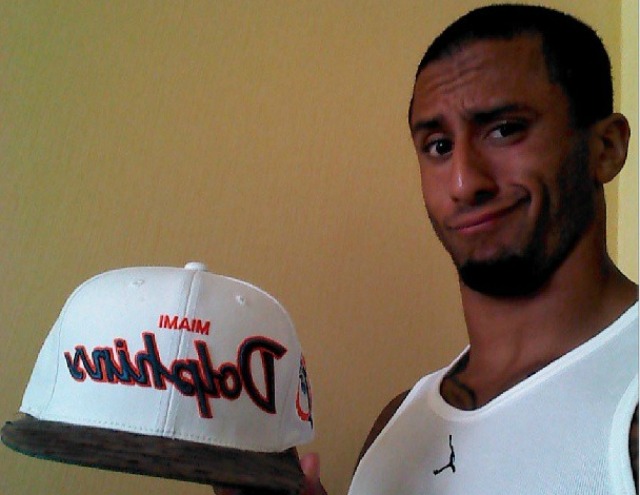 Colin Kaepernick obviously hasn't learned from the mistake made by Chargers receiver Keenan Allen. And thus, about six weeks after the rookie Allen wore a Raiders hat during a trip to In-N-Out Burger and then displayed it on social media, the 49ers quarterback was caught wearing a Dolphins hat at a Fourth of July party.
San Francisco fans obviously didn't enjoy his fashion choice (funny, Chargers safety Eric Weddle didn't care for Allen's hatwear, either),and whether this kind of thing inflames you (I'm kind of meh about it, but I imagine San Francisco coach Jim Harbaugh might feel differently), it's obvious Kaepernick isn't so concerned.
Which is why he sent out the above photo on his Instagram account and wrote:
This the hat y'all mad at? I'm goin wear what I want regardless of what you think, all you need to worry about is the fact that I grind for my teammates and the 49ers! I plan on doin this until they won't let me in the building! #ridiculous #y'allmustbebored
Well, OK, you can see his point. Fans probably shouldn't care about the kind of clothes their favorite players sport when they're not on the football field. But then again, fans care about lots of things -- even Allen realized that and soon after apologized -- even if they're silly or mundane. And that includes wondering why in the hell the 49ers franchise quarterback would wear a Dolphins hat.
Thankfully, the only way the two teams would play this season if it was in the Super Bowl. And personally, we're just glad Kaepernick doesn't have to face off against the Milwaukee Brewers either (psst, he's got one of their hats as well).