2013 NFL season preview: Kansas City Chiefs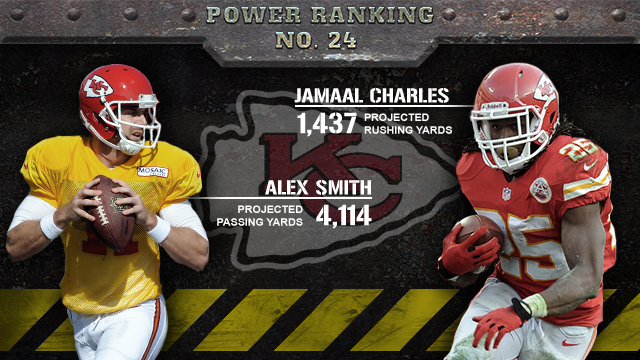 The Chiefs had just one winning record in the past six seasons, and in 2012, they matched the worst record in franchise history with a 2-14 mark (the team also went 2-14 in 2008, Herm Edwards' last season in Kansas City).
New coach Andy Reid -- who takes over for Romeo Crennel, who took over for Todd Haley, who took over for Edwards -- will try to correct all of that, and he has the credentials to do so. Perhaps people have forgotten, but Reid did a heck of a job in his 14 years as the Eagles coach, winning seven division titles and establishing a .583 winning percentage (that's a better percentage, mind you, than Hank Stram, Don Coryell and new Hall of Fame inductee Bill Parcells).
Perhaps the Midwest will be kinder to Reid than his last few years on the East Coast, and though the Chiefs have talent, they also have players who haven't showcased that talent to the fullest potential. That's one major component of Reid's job. Getting the players who have top talent to consistently use it.
Offense:
Chiefs' Rivals: AFC West


2013 Preview • Schedule
Broncos @ Chiefs: 12/1 (1 p.m. ET)
Chiefs @ Broncos: 11/17 (4:05 p.m. ET)


2013 Preview • Schedule
Raiders @ Chiefs: 10/13 (1 p.m. ET)
Chiefs @ Raiders: 12/15 (4:05 p.m. ET)


2013 Preview • Schedule
Chargers @ Chiefs: 11/24 (1 p.m. ET)
Chiefs @ Chargers: 12/29 (4:25 p.m. ET)
Apparently, Reid believes strongly in new quarterback Alex Smith, who has played well the past two seasons in San Francisco before a concussion allowed Colin Kaepernick to take his starting job. I mean, he really believes in Smith. Reportedly, Reid tried multiple times to acquire Smith when he was still coaching in Philadelphia. So, he's reclamation project No. 1 to go along with newly traded receiver A.J. Jenkins, who was a 49ers first-round pick in San Francisco and was so unimpressive that the team gave up on him after just 16 months.
The Chiefs traded away Jonathan Baldwin, who was the team's No. 2 receiver behind Dwayne Bowe, so it'll be interesting to see who sneaks into the starting lineup in Baldwin's place. Perhaps receiver Dexter McCluster, one of the most versatile athletes on the team, can give the team a solid 1-2 punch at that position.
One problem, though, is running back Jamaal Charles. He suffered a foot injury early in camp, and it's unclear when he'll be back (and how effective he'll be). But assuming he's not out for long, he should take pressure off Smith to go with an offensive line that includes two former first-round picks (including the 2013 No. 1 overall Eric Fisher at right tackle) and two former second-round picks. The protection for Smith and the running game should be there.
Defense:
With this roster, the Chiefs really should put together a better defense than the one that ranked 20th in the league last year. In the front four, there are two former first-round picks in Tyson Jackson and Dontari Poe who the team is just waiting to explode for huge years. Neither had great seasons last year, but the potential is there. Mike Devito, who had a strong season with the Jets in 2012, should help stop the run.
In the middle of the defense, the linebacker corps can be really good with Tambi Hali, Justin Houston and Derrick Johnson. In the secondary, meanwhile, the Chiefs boast players like Eric Berry, Brandon Flowers and Sean Smith. Now, if only the Kansas City defensive line could rush the passer with regularity -- the Chiefs finished 29th in the league in sacks last season -- that could really help this team in the AFC West.
Final thoughts:
The Chiefs will be better than last season. That really shouldn't be a question. The big question will be how much Reid can improve the team in just one short year. If Reid is the coach some of us think he is, Kansas City will flirt with a .500 record. It will take more than a season (and probably more than Smith at quarterback) to have a shot at beating the top-tiered teams in the AFC, but remember Reid took over a team in Philadelphia that went 3-13 the year before he got there.
More 2013 NFL season previews: Select a team
AFC North
AFC South
AFC East
AFC West
NFC North
NFC South
NFC East
NFC West