NFL Expert Picks: Who will win defensive player of the year?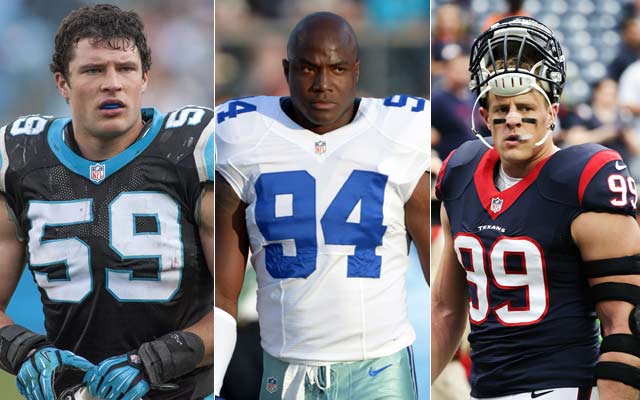 Will Brinson | Luke Kuechly: Maybe a stretch this early in the stud middle linebacker's career, but Kuechly plays a prominent position and puts up notable stats. Those stats will be even better with Star Lotulelei and Kawaan Short shoring up the defensive line.
Josh Katzowitz | J.J.Watt: The Texans defensive lineman is a one-man wrecking crew, creating chaos for every offense he plays.
Jason La Canfora | Geno Atkins: Everyone is going to say JJ Watt, and they're probably right, but Atkins is the dominant interior player in football, the Bengals are primed for a big season and he will make enough flashy plays to finally start getting the credit he deserves.vide a modicum of protection then the sky is the limit.
Ryan Wilson | Geno Atkins: The former fourth-round pick came into the league under the radar but now everyone knows who he is and it has nothing to do with Hard Knocks. He's a disruptive force along the line that is as much a game-changer as J.J. Watt.
Pete Prisco | J.J. Watt: He will break the single-season sack record this year. He can't be single-blocked and he is too good against the double. Does he get the 20-20-20 he wants? That will be tough.
John Breech | DeMarcus Ware: J.J. Watt seems like the obvious choice, but keep in mind that no player has won this award back-to-back since Lawrence Taylor in the 1981-82 seasons. Ware's healthy and he seems to be thrilled about making the move to defensive end.