49ers, Titans players named in lawsuit over alleged shooting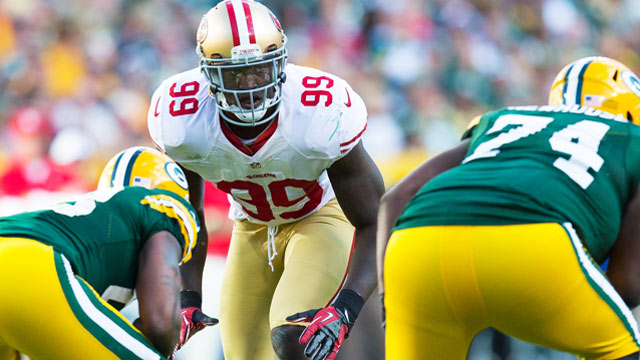 San Francisco 49ers linebacker Aldon Smith and Titans tight end Delanie Walker have both been named in a lawsuit over an alleged shooting that took place at a party Smith hosted in June 2012, according to NBCBayArea.com.
The man who filed the lawsuit, Ronndale Esporas, claims that he suffered 'catastrophic and permanent' injuries from gunshot wounds he sustained while attending the party.
According to the lawsuit, Smith and Walker unlawfully possessed handguns and were illegally firing them throughout the course of the party. The suit claims that both Walker and Smith were intoxicated while firing the weapons.
Smith was allegedly selling alcohol at the party for $5.00 a drink and charging guests a $10.00 cover charge.
The suit doesn't necessarily claim that Smith and Walker shot Esporas.
The lawsuit claims that Smith and Walker fired shots into the air to get everyone to leave and at that point, a group of people near the street began firing shots back -- Esporas claims he was shot twice in the leg during the crossfire.
"The 49ers organization has been aware of this matter concerning Aldon Smith for some time," the team said in a statement. "We will continue to monitor the situation closely, but will have no further comment at this time, as this is an ongoing legal matter."
Although Walker's in Tennessee now, he was Smith's teammate in San Francisco for two seasons (2011-12).
This isn't the first we've heard of Smith's June 2012 party, Smith was actually stabbed at the party and suffered minor injuries.
Authorities who originally responded to the incident would later note in the police report that three men were taken to the hospital -- two of them for gunshot wounds and one for a stab wound. Police had been called to the party after receiving reports of gunshots, according to the Sacramento Bee.
You can read the lawsuit in its entirety here.