Packers QB Aaron Rodgers throws for 335 yards in first half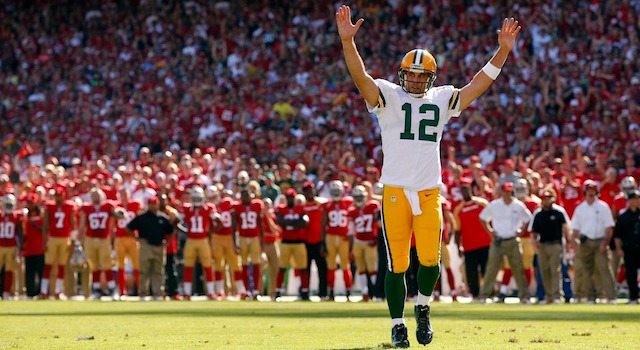 Green Bay Packers quarterback Aaron Rodgers is halfway to NFL history. Rodgers threw for 335 yards in the first half against Washington on Sunday, leaving him just 220 yards shy of Norm Van Brocklin's 554-yard single-game record. Van Brocklin's record has stood since 1951.
Rodgers finished the half 26 of 31 for 335 yards and three touchdowns. The 29-year-old quarterback probably would have had four touchdown passes, but Packers wide receiver James Jones fumbled on the Redskins' 1-yard line with nine seconds left in the half.
Rodgers only needs 145 yards in the second half to break the Packers' franchise record of 480 yards, set by Matt Flynn in Green Bay's 2011 season finale against Detroit.
The Packers' ninth-year quarterback also set a personal record with the 335-yard first half performance. Rodgers' previous career high for a first half was 274 yards. Rodgers' career high for a single game is 408 yards.
The last quarterback to throw for at least 335 yards and three touchdowns in a first half was New England Patriots quarterback Tom Brady, in 2009 over the Titans and finished the game -- a 59-0 victory -- with 380 yards and six touchdown passes.