Redskins WR Pierre Garcon: RG3 not as fast with knee brace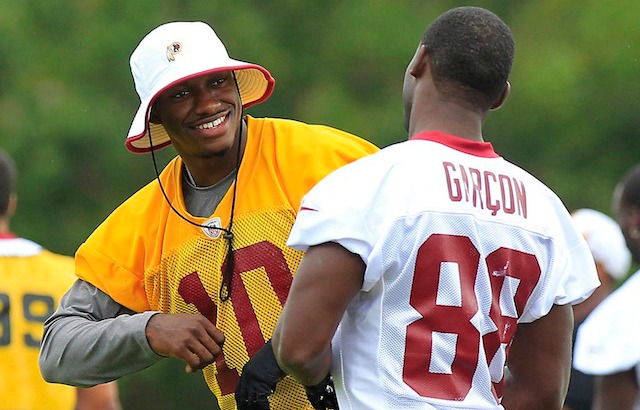 If you think Washington Redskins quarterback Robert Griffin III is moving slower than he did last year, you're not the only one. Redskins wide receiver Pierre Garcon said on Tuesday that he thinks Griffin is running slower than he did in 2012 and it's because of his knee brace.
"Robert obviously can't run as fast as he did last year because of his knee brace and his knee," Garcon told ESPN 980, via ESPN.com.
According to Garcon, Griffin's running ability is the only thing that's changed in the Redskins offense since last season, "It's the same offense, to be honest with you. It's nothing different. It hasn't changed at all," Garcon said.
Through two games in 2012, Griffin had totaled 124 yards rushing. In 2013, Griffin only has 25 yards rushing through the first two weeks of the season and none of those have come on a play where the Redskins ran the read-option, according to ESPN.com.
For his part, Griffin says he's not running because teams aren't giving it to him, "Everyone's going to the lack of QB runs. If teams will give us the QB runs, then we'll take it," RG3 said on Sunday. "If they're not giving it to us, then we can't just run those plays."
Garcon seems convinced it's the knee brace.
"When you're walking around with a knee brace or playing with a knee brace, obviously it's slowing you down a little bit," Garcon said. "It's just natural. I don't know how much it weighs, exactly, but you always think about it when you have it on there, and it's a constant reminder. It's not gonna let you be the guy you are without the knee brace. When you have something around your knees -- the more equipment you have on, it's obviously distracting you or slowing you down from being as free as loose as yourself without any equipment on."
Whatever it is, the Redskins need to fix it fast. Grffin's legs are a vital part of the Washington offense. After leading all NFL quarterbacks in rushing last season with 833 yards, Griffin's 25 yards in 2013 currently rank 14th in the NFL behind the likes of Christian Ponder (30), Philip Rivers (29) and Sam Bradford (26).