Maurice Clarett wants the Cleveland Browns to give him a tryout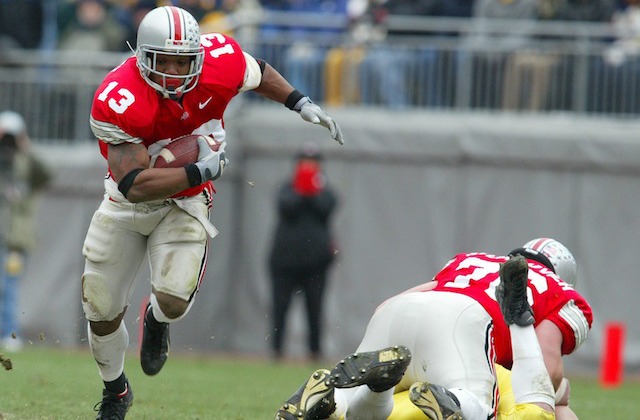 With Trent Richardson on his way to Indianapolis, the Cleveland Browns now have one small problem: Brandon Weedon is the top leading rusher on the team. Actually, they have another small problem: the only running back on the roster, Bobby Rainey, has zero career carries.
The Browns do also have a fullback on the roster in Chris Ogbonnaya, but if he plays running back, then they don't have anyone to play fullback. It's a vicious circle with the Browns.
Anyway, if the Browns need a running back -- and they do -- there's someone that would love to play for them, or at least get a tryout: former Ohio State running back Maurice Clarett. Clarett took to Twitter on Wednesday to ask the Browns for a tryout.
@Browns can I get a workout? I still have plenty of mileage on these legs..!!!!!!

— Maurice Clarett (@ReeseClarett13) September 18, 2013
Cleveland has already announced that its bringing in nine-year veteran Willis McGahee and the Browns said they plan to sign McGahee if he passes his physical. However, that didn't keep Clarett from pleading his case.
@Browns I had behavior problems that I cleaned up. Never had playing problems.

— Maurice Clarett (@ReeseClarett13) September 18, 2013
The weird thing here is that bringing in Clarett is not a horrible idea. Now stick with me here. Clarett is still somewhat popular in the state of Ohio for helping lead Ohio State to the national title in 2002. And the Browns can use any goodwill they can get at this point.
Source tells me phones at #Browns headquarters ringing off the hook with phone calls from angry ticket holders in wake of Richardson trade

— Daryl Ruiter (@RuiterWrongFAN) September 19, 2013
Cleveland didn't exactly win any new fans by trading Richardson, as a matter of fact, it seems like they lost some of the old ones. They don't have to sign Clarett, but bringing him in for a tryout might make fans .00000001 percent happier than they are right now and the Browns should be doing anything possible to make their fans happier.
Clarett was drafted in the third round by the Broncos in 2005, but never played in a regular season game with the team or any other NFL team.
---
Follow John Breech on Google+