PHOTO: Tim Tebow banner flies over stadium in Jacksonville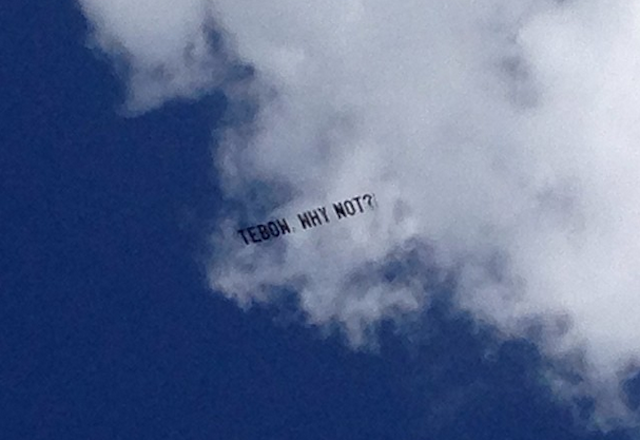 It's a bird! It's a plane! No, it's Tebow fans doing what Tebow fans in North Florida do best: doing whatever they can to convince the Jaguars front office to sign Tim Tebow.
The group 'JAGS-TEBOW, WHY NOT' struck again on Sunday, flying a banner over EverBank Field in Jacksonville as the Jaguars played the Colts. If nothing, the group has good timing. By the time the banner flew over the stadium in the second quarter, Blaine Gabbert had already thrown two interceptions. Tebow has zero interceptions this season.
This isn't the first time the 'JAGS-TEBOW, WHY NOT' group has made it known they want Tebow in Jacksonville. The group also held a rally on Sept. 16, but the rally turned out to be more of a small get-together because only 16 people showed up. Actually, lets make that number only 15 because we're not going to count our very own Pete Prisco, who decided to make a cameo at the rally to talk Tebow with all the Tebowites that showed up.
(Wink of the CBS Eye to Steven Schnake on Instagram)