Titans QB Jake Locker carted off field in third quarter against Jets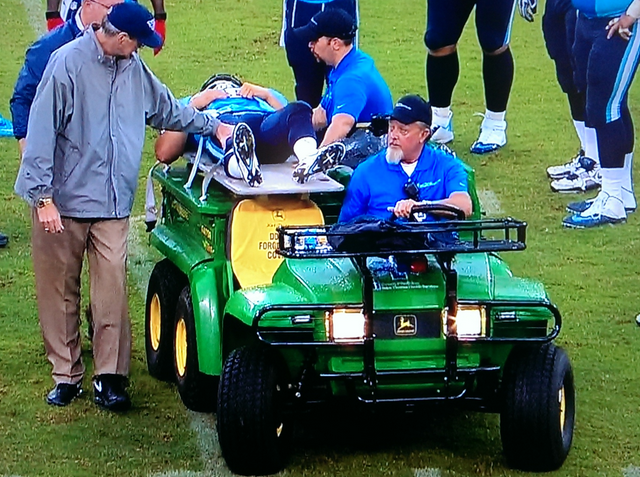 Tennessee Titans quarterback Jake Locker was carted off the field in the third quarter on Sunday after taking a rough hit from Jets defensive lineman Muhammad Wilkerson. Locker fell to the ground after the hit, clutching his right hip. Locker was then carted off the field by the Titans training staff and taken to a local hospital.
The Titans confirmed that Locker did in fact injure his right hip, however he's still being evaluated and the severity of the injury is unknown at this point. Locker did give the crowd a thumbs up as he was carted off the field.
Before the injury happened, the third-year quarterback was in the middle of a career game. Locker threw three touchdown passes in the first half against the Jets, topping his career-high of two touchdown passes for an entire game.
Locker was 18 of 24 for 149 yards when was carted off the field with 11:14 left in the third quarter. Wilkerson was not flagged on the play.
Titans backup quarterback Ryan Fitzpatrick will likely finish the game for the Titans, who were leading the Jets 24-6 when Locker went down. Tennessee went on to win the game 38-13 to improve to 3-1 on the season.