NFL MVP Projection: Drew Brees moving up heading into Week 5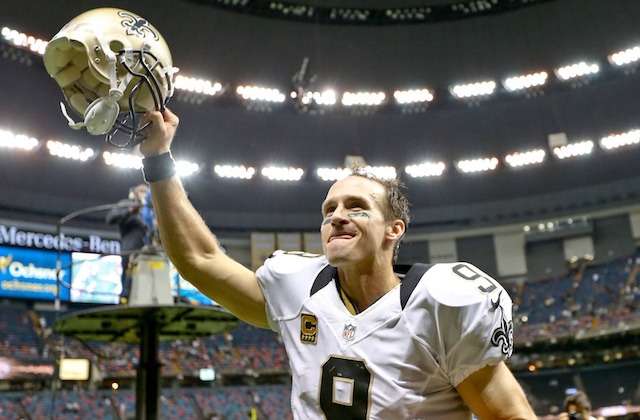 One of the most impressive things about the 2013 NFL season is that nothing's impressive anymore. Take Drew Brees' Monday night performance for instance. A long time ago, actually last year, a 400-plus yard game with four touchdown passes and zero interceptions would be considered the most impressive game of the season.
In 2012, only one quarterback on any team did it the entire season: Tony Romo. In 2011, it was only done once too (Brees). From 2005 to 2009, it was done zero times. In 2013, it seems like it's happening every week. Actually it doesn't just seem that way, it kind of is. Through four weeks, three different quarterbacks -- Peyton Manning, Aaron Rodgers and Drew Brees -- have hit the 400-yard mark and thrown at least four touchdown passes with zero interceptions.
In any other year, we would've spent all week talking about Brees' performance, especially since it came against an undefeated team. However, in the year of Manning, we are not to talk about Drew Brees because it means we're not talking about Peyton Manning.
Speaking of Peyton, guess who's on top of the MVP Projection this week.
MVP Projection
1. Broncos quarterback Peyton Manning: If ESPN hasn't copyrighted the name Book of Manning yet, the NFL should because that's what the record book's going to be called next year after Manning sets every passing record possible. Except for the interception record of course, but Eli's going to set that, so that Book of Manning joke still works. As for Peyton, he makes good teams look bad, he makes bad teams look horrible and he makes horrible teams look -- well, you saw what he did to the Eagles. Through four weeks, he's the MVP in my head and my heart.
2. Patriots quarterback Tom Brady: New England's top two wide receivers right now are a former seventh-round draft pick and an undrafted free agent. That's what Brady's working with. That's like asking a doctor to perform heart surgery using only a fork, a can opener and a paper plate. Somehow, Brady has this team at 4-0. There should be an award for what he's doing. Not the MVP Award, because that's Peyton's, but another award.
3. Saints quarterback Drew Brees: If Brees has 12 more games like the one he had on Monday against the Dolphins, he might be able to take over Peyton Manning for the top spot on this list. But Manning would also have to start playing like Christian Ponder and that's probably not going to happen. The win over the Dolphins marked the 13th time in Brees' career that he's thrown four or more touchdown passes with no interceptions, the Saints are 13-0 in those games.
4. Saints tight end Jimmy Graham: You know how Peyton Manning is on pace to break every passing record, well Jimmy Graham's doing that same thing except with tight end records. If Graham can somehow keep up the ridiculous pace he's on, he'd finish with 108 catches for 1,832 yards and 24 touchdowns. The tight end record for those categories are 103 catches (Jason Witten), 1,327 yards (Rob Gronkowski) and 17 touchdowns (Gronkowski). If Graham were to catch 24 touchdown passes, that would break the NFL's all-time single-season record of 23 (Randy Moss). The Saints should probably sign Graham to an extension now because his price is going up $9 million a day.
5. Detroit running back Reggie Bush: With the Lions now tied for first place in the NFC North, it's time for someone from Detroit to crash this list and that person is Bush. Bush is 15th in the NFL in rushing with 254 yards. That ranking is a lot more impressive when you consider that he's missed a game and a half due to injuries. Bush's 179 receiving yards are the most in the NFL by any running back not named Darren Sproles (277) or Joique Bell (207). If Bush can stay healthy and Peyton Manning retires midseason, Bush might be able to make a run at the MVP.
6. Chiefs linebacker Justin Houston: Houston is the only defensive player on the list this week and he's hanging onto his spot by a nose hair or if you don't like nose hairs, an eyelash. J.J. Watt and Brian Cushing were also considered, but I decided to go with Houston because he's tied for the league-lead in sacks (7.5), fumble recoveries (2) and has played a huge role all-around on Chiefs ninth-ranked defense.
T-7. Seahawks quarterback Russell Wilson: Wilson was No. 2 on this list last week and it's kind of hard to knock him down too far after he led a 17-point second half comeback on the road against one of the best teams in the AFC. Wilson's passing stats against Houston weren't glamorous (12 of 23, 123 yards, one interception), but his rushing stats were. Wilson carried the ball 10 times for 77 yards, including a four-yard scramble on fourth-and-3 in the fourth quarter that gave the Seahawks a first down at Houston's three-yard line and saved the game. Richard Sherman's pick-6 later in the fourth quarter means nothing if Wilson doesn't convert that fourth down. And if Sherman's pick-6 means nothing, that means one less person sets their Matt Schaub jersey on fire at the end of the game.
T-7. Colts quarterback Andrew Luck: The government might be shut down, but the democracy that is the MVP projection is going strong. Last week I asked you if anyone was being snubbed on this list and Andrew Luck seemed to be the popular answer, so here he is, on the list. The most impressive thing about Luck this season might be his ability to scramble. Luck has the sixth most rushing yards (126) of any quarterback and the highest rushing average (7.9 yards per carry) of any quarterback in the league with over three carries, he's also tied for the most rushing touchdowns of any quarterback (2). Luck and Wilson are going head-to-head on Sunday. Loser leaves this list. I know, that's not really much of a punishment, but that's all I have.
Did I leave someone off the list? Did I rank Peyton Manning too low? Let me know in the comment section or on Twitter or hit me up on MySpace. Actually, don't hit me up on MySpace.