PHOTO: Dolphins mascot doesn't understand field goal rules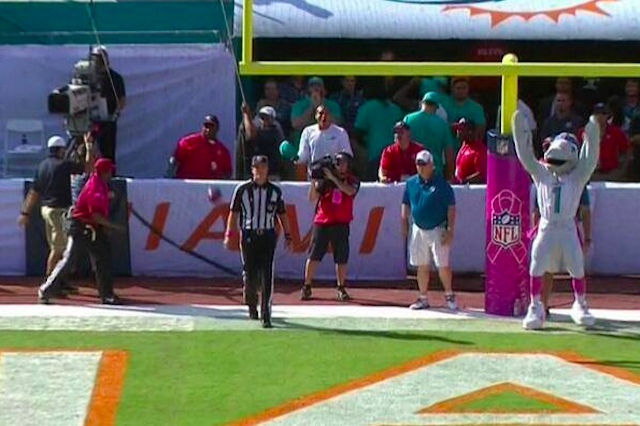 The rules to a field goal in the NFL are pretty simple: if the ball goes through the uprights, the kick is good. If the ball doesn't go through the uprights, the kick is no good.
Any human can understand that, but the principle is a little more difficult to digest if you're a dolphin, just ask T.D., the beloved mascot of the Miami Dolphins.
With under a minute left in Sunday's game between the Ravens and Dolphins, Miami kicker Caleb Sturgis lined up to attempt a game-tying 57-yard field goal. The kick was long enough, but it went wide left. However, if you were watching T.D., you may have thought that Sturgis made the kick because T.D. gave the 'It's good' signal.
In the picture above, you can see the football just above the 'A' on the back wall. Also, make sure to watch this GIF and you can see poor T.D. get really excited because he thought the kick went in, then he gets real sad when he realizes he's wrong and he also realizes the Dolphins are going to lose 26-23.
In his defense, T.D. probably isn't a big fan of field goals though, especially after Ray Finkle booted that 26-yard field goal in the Super Bowl against the 49ers when Dan Marino held the ball laces out. LACES OUT DAN!
(Wink of the CBS Eye to SB Nation for the GIF)