NFL Week 5 as told by Twitter: Denver-Dallas takes over Twitter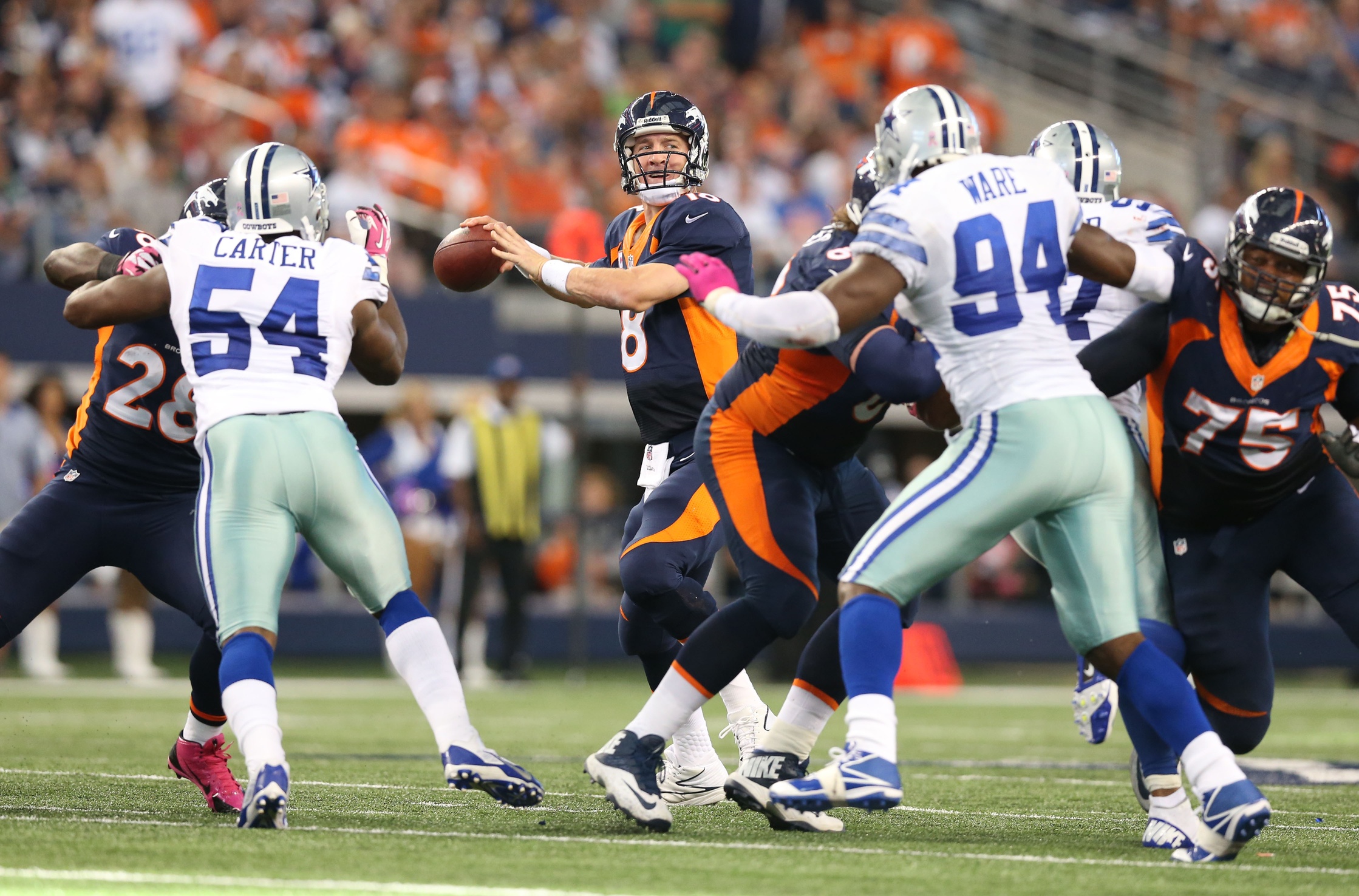 Peyton Manning's Broncos and Tony Romo's Cowboys played arguably the best game of the NFL season with their performances at the center of the incredible 51-48 Denver victory.
Manning threw for 414 yards and four touchdowns while scoring another on the ground. Romo managed to outdo his counterpart with 506 yards passing and five touchdowns. But it was their interceptions that blew up Twitter.
Only 2 NFL QBs currently have double-digit TDs and 1 INT or less. And they're playing each other right now #Peyton #Romo

— Dane Brugler (@dpbrugler) October 6, 2013
Peyton Manning interception dot wtf

— CJ Fogler (@cjzero) October 6, 2013
Peyton Manning felt bad for Eli and tossed an INT to the Cowboys.

— NFL Retweet (@NFLRT) October 6, 2013
HE IS MORTAL

— Spilly (@IAmSpilly) October 6, 2013
MALFUNCTION

— Andy Hutchins (@AndyHutchins) October 6, 2013
Somehow that was Eli's fault.

— Dan Levy (@DanLevyThinks) October 6, 2013
PEYTONCEPTION

— Lana Berry (@Lana) October 6, 2013
I was there when Peyton Manning threw his first interception of 2013. #neverforget

— Kent Babb (@kentbabb) October 6, 2013
The Manning brothers have now thrown a combined 13 interceptions.

— Frank Isola (@FisolaNYDN) October 6, 2013
While Manning's interception didn't cost Denver the game, Tony Romo's INT did.
*clears throat*

— Awful Announcing (@awfulannouncing) October 6, 2013
October 6, 2013
At some point, you knew Tony Romo would remember he's Tony Romo.

— Peter Bukowski (@BukoTime) October 6, 2013
Well, that wasn't too predictable. #Romo

— Ryan Greene (@ryanmgreene) October 6, 2013
HAHAHAHAHAHA

— Will Brinson (@WillBrinson) October 6, 2013
Death, Taxes, Romo

— Jerry Palm (@jppalmCBS) October 6, 2013
Van Brocklin would not have thrown that pick

— Tim Layden (@SITimLayden) October 6, 2013
Photo of the Day:
We get it, Tom Brady. You're investigating a haunted house in the 70s. pic.twitter.com/Pwr5ELWQUw

— Jarnold (@dagotron) October 6, 2013
Poor Eli Manning. His brother is destroying the NFL and he's been reduced to this.
We have this week's Eli Manning Face entry. 12 more weeks of losing and this will make an awesome coffee table book. pic.twitter.com/ArWbj5tTIH

— ryan wilson (@ryanwilson_07) October 6, 2013
Tom Brady's two-minute offense failed, but for good reason.
Worse now pic.twitter.com/UqjZweNuQs

— Greg A. Bedard (@GregABedard) October 6, 2013
This rain in Cincinnati is biblical.

— Gregg Doyel (@GreggDoyelCBS) October 6, 2013
Jacksonville Futility Tweet of the Week:
#11 Gabbert, Blaine. Pos: Fetal

— Josh Norris (@JoshNorris) October 6, 2013
David Wilson's season is going poorly.
All David Wilson does is lose ground. He'd be a great French infantryman.

— Bobby Big Wheel (@BobbyBigWheel) October 6, 2013