NFL Week 6 picks: History tells us Broncos won't cover vs. Jags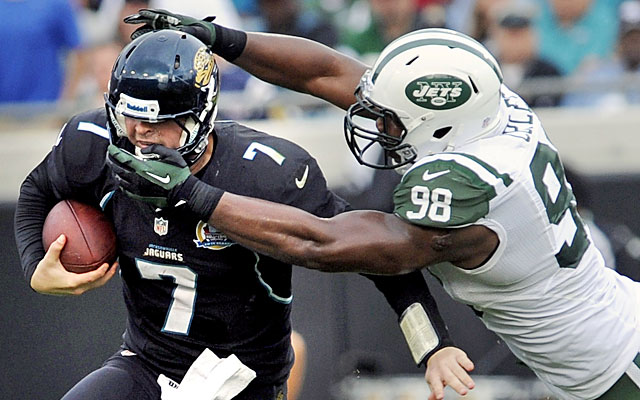 Depending on when you read this and depending on where you're looking or who you're calling, the Jaguars are getting 26.5, 27, 27.5 or 28 points when they travel to face the Broncos in Denver.
For the purposes of this article, we'll say it's a 28-point spread, and as you should know by now, that's the largest spread in NFL history. Usually in this space, I give you three reasons why I think the pick I'm making is the correct one. But because this line is unprecedented, let's look back at some of the largest spreads in NFL history and see if they can tell us anything about the way we should be thinking about this Week 6 game.
Big wink of the CBS Eye to Bovada for the helpful research
1) Steelers -27 vs. Buccaneers; Dec. 5, 1976. This was Tampa Bay's first season of play -- funny, it almost looks as if 2013 is Jacksonville's first season of play -- and they had lost their first 12 games of the season by an average of 18.2 points per contest. Pittsburgh's average margin of victory was 20.4 points per game (for the record, Jacksonville has lost games by 22.4 points this year, while Denver has won by a margin of 18.2 points). The result: Pittsburgh won 42-0 and covered the spread.
2) Patriots -24.5 vs. Eagles; Nov. 25, 2007. New England was 10-0 and had just finished destroying the Bills by 46 the week before. A few weeks before that, the Patriots had dominated the Redskins by 45. The Eagles starting quarterback, Donovan McNabb, was out for this game, so they had to start A.J. Feeley. Plus, Bovada thinks that, since this game was a nationally televised Sunday Night Football game, the line might have been a bit inflated. The result: New England won 31-28 and did not cover the spread.
3) 49ers -24 vs. Bengals; Dec. 5, 1993: Cincinnati was coming into this game on a one-game winning streak. 'Course, the Bengals had lost their previous 10 games played that season. Meanwhile, the 49ers had won by an average of 24.2 points in the five games leading into this one. The result: San Francisco won 21-8 but did not cover the spread.
4) And just for the heck of it: here are the next four biggest spreads: the 49ers -23.5 vs. the Falcons on Oct. 11 1987; the Cowboys -23 vs. the Buccaneers on Oct. 2, 1977; the Patriots -22.5 vs. the Dolphins on Dec. 23, 2007; and the Patriots -21 vs. the Buccaneers on Dec. 12, 1976. The result: All of the favorites won the game straight-up but none of them covered the spread.
So, what does all of this historical information tell us?
Well, nothing directly. But historically, we've learned it's nearly impossible for one NFL team, no matter how good, to cover a spread of at least 21 points against another NFL team, no matter how bad. And it appears as though Chad Henne will start at quarterback for Jacksonville instead of Blaine Gabbert, and I actually think that's good news for the Jaguars.
Plus, as we saw on Sunday vs. the Cowboys, the Broncos defense isn't playing that well.
All of that combined and with all of that historical perspective, I'd put my money on the Jaguars at +28. But yeah I'll admit it, Peyton Manning still scares me.