Sorting the Sunday Pile: Despite heroics, Tom Brady still not sharp
Sorting the Sunday Pile looks at the biggest storylines of the NFL week. Send questions, complaints and Slanket coupons to me on Twitter @WillBrinson. Listen to the Eye on Football Podcast Week 6 Recap the player below or Subscribe via iTunes.
Tom Brady isn't terrible. In case that wasn't obvious before Sunday, he made it quite clear in the final 1:13 of Week 6's 30-27 win over New Orleans. Marching the Patriots 53 yards before anyone even realized what was happening, Brady slung a laser to Kenbrell Thompkins in the back left of the end zone to put the Pats ahead for good.
It was the type of pass that blew up Twitter and made all the folks driving away from Gillette Stadium feel stupid. It even almost made Bill Belichick emote.
"He's obviously one of the best players in the league," Belichick said. "He's good in all four quarters."
Brady's pass to Thompkins tied him with Frank Tarkenton for fourth all-time in NFL touchdown passes. It's just another impressive spot on another impressive list for Brady. But Brady, despite the clutch throw, missed a lot of throws on Sunday, too. Like, a lot of easy ones (for him, anyway). He was killed by drops as well -- Julian Edelman dropped an easy catch in the end zone the play before the Thompkins score -- and deserves credit for playing with a crippled cast.
But Brady really hasn't been very good this season. Look at his position on this list. What the hell is he doing hanging out with these guys? And what in God's name is he WEARING here?
OK that post-mod Mr. Rogers outfit actually has nothing to do with Brady's play. As Mrs. Brinson said when she found out I was mocking Brady's sweater: "Have you seen his wife? Shut up."
Maybe I should do that. I just find the narrative amusing here. Brady hasn't been good in 2013 and people were killing him before he flipped the script and hit Thompkins for that touchdown. It really is the reverse Tony Romo treatment: Because Brady made one big throw when it counted suddenly all his sins were forgiven.
It might be smarter if we just took Belichick's approach to everyone's late-game heroics or struggles.
"That's what he does. That's what he gets paid for," Belichick said.
It is kind of an accurate assessment of Brady. For as bad as he's been at times -- and he was really bad against the Jets, Bengals and for much of Sunday's game as well -- he's still got the Patriots at 5-1.
Quarterback victories are largely irrelevant. But so is freaking out over how Tom Brady looks -- either on the field or in his sweaters -- as long as the Pats keep winning.
The Big Cover Up
While we're talking Patriots-Saints, let's make sure to give a gold star to Aqib Talib. Assigned the nearly impossible job of shutting down New Orleans tight end Jimmy Graham, Talib did just that, smothering Graham all day long and frustrating Drew Brees into forcing some throws.
Coming into the game, Talib had played quite well, grading out as Pro Football Focus' No. 3 ranked cornerback on the season. He's a large part of why the Patriots are able to take their opponents biggest strengths away.
Opposing No. 1 weapons vs Patriots this year: Spiller 17-41. VJax 3-34. Julio 6-108. Santonio 3-51. AJ Green 5-61. Jimmy Graham 0-0. No TDs.

— Evan Silva (@evansilva) October 13, 2013
And don't forget that most of Julio Jones yards came during garbage time, too. Talib's been locking down opposing weapons with regularity. He suffered what's been reported as a hip flexor during Sunday's game. If he's out for any substantial length of time that's a massive, massive blow to the Pats defense.
Collision Course
Don't look now but the Chiefs and Broncos might be undefeated when the two division rivals meet for the first time this season in Week 11. The duo moved to a combined 12-0 on the season after beating the Jaguars and Raiders, respectively, on Sunday. They also helped the AFC West become just the second-ever division with a pair of 6-0 teams.
AFC West is 2nd division in @nfl history with 2 6-0 teams (DEN, KC) to start season (1934 NFL Western Division)

— Jon Zimmer (@NFLhistory) October 13, 2013
And, clearly, this is the first time since the merger it's happened. The teams are helped by the NFL's decision to back-weight the schedule, which pushes divisional rivalry games later into the year. It's blind luck that they might both be 9-0 when they play, though.
Kansas City has a home game against Houston in Week 7, a home game against Cleveland in Week 8 and a road trip to Buffalo in Week 9 before a Week 10 bye to prep for the Broncos. Denver has a Sunday night matchup at Indianapolis in Week 7, a Week 8 home game against the Redskins, a Week 9 bye and a Week 10 game at San Diego.
You could almost argue KC is more likely to be undefeated when Week 11 rolls around. Teams trip up all the time in the NFL -- look no further than Denver's struggles with the Jaguars on Sunday. (KC had its hands full with the Raiders, too.) But if I were a betting man I'd throw down some cash -- assuming good odds -- that we could see 9-0 versus 9-0.
What's so cool about the game is that it features two very good teams doing things totally differently. The Broncos are entirely dependent on Peyton Manning. He's able to help them win and score points despite the foibles around him. The Chiefs, on the other hand, bring Alex Smith up a level. A quarterback-hounding defense, a strong secondary and Jamaal Charles key the Chiefs this season. Flip the quarterbacks and the results are totally different.
Breaking Ankles
There's a reason Giovani Bernard was my choice for Offensive Rookie of the Year. He's obviously a very good player. But the reason he's special is his jaw-dropping athleticism, which was on display during a 20-yard touchdown catch and juke that should be sponsored by a Buffalo orthopedic specialist:
Foles Me Once
How close to winning the Eagles starting job did Nick Foles come on Sunday? It has to be pretty close after he went on the road against a top(pish) tier passing defense and lit things up. The biggest plus for Foles? He helped spark a struggling wide receiver corps and didn't limit the rushing attack in Philly's 31-20 win.
LeSean McCoy previously wasn't as dominant with Foles playing. That's no surprise as rushing quarterbacks generally help running backs. But McCoy had a monster game against the Bucs, rushing for 125 yards and catching two passes for another 55 yards. Most importantly, Riley Cooper and DeSean Jackson were big factors.
It wasn't just shot plays that got them involved, but those helped. Jackson had a pair of scores, Cooper added one and had 140 receiving yards total with Foles completing a whopping 71 percent of his passes.
He got the ball out quickly, he nailed his targets and he made all the right decisions. Those are the hallmarks of a Chip Kelly offense.
The best guess here is Foles earns another start against Dallas next week for NFC East leading rights. If he succeeds against the Cowboys the way he did Sunday he'll displace Vick as Kelly's new starter. Speed isn't a requirement to make this offense work.
A Houstonian Problem
Not to beat an injured horse but it's embarrassing that Texans fans cheered Matt Schaub's injury. Quit acting like this guy is the reason the team stinks. The defense played horribly. T.J. Yates wasn't even any better. It's nice to hear both Texans players -- Brian Cushing called the fans "barbaric," Arian Foster called it "tactless and tasteless" while Johnathan Joseph was even angrier -- and opposing players even had his back.
If you were at Reliant stadium and cheered Matt's injury, you are a poor representation of your fan base and a bad example to young fans.

— Chris Long (@JOEL9ONE) October 13, 2013
It's Just That Simple, Fellas
Admittedly the Vikings aren't a good defense. And the Panthers offense didn't get stuffed with a bunch of ball bearings and suddenly become not terrible. But what we saw Sunday from Mike Shula's unit was unlike something we've seen in Carolina's previous four games and it should give hope to Panthers fans that Carolina can turn the corner offensively and become a dangerous team.
Exhibit A, what might very well be the first-ever fleaflicker tight end screen:
This is a GD brilliant play design. I've never seen this before and I can't even begin to fathom how it was Shula who thought of it. Good for him and good for Ron Rivera, who finally showed some aggressive tendencies in his coaching behavior.
Coaches don't have to be balls to the wall all the time. But Rivera's refusal to go for it on fourth downs was becoming embarrassing predictable and downright sad. Rivera -- whose boss is reportedly out there doing a little window shopping -- and Shula both coached like they had nothing to lose Sunday.
And that's the attitude they should take for the rest of the season, which could actually take a positive turn pretty quickly. At 2-3 the Panthers aren't a playoff sleeper right now. But the Buccaneers and Falcons stink and they can make hay in this division. A home game against the Rams and a road trip to Tampa Bay could very well be victories. Being 4-3 and welcoming the Falcons in three weeks would be a nice spot, especially when you consider how close to beating Buffalo and Seattle this team was.
Creative, aggressive playcalling could go a long way towards rejuvenating a franchise that looked dead in the water. Or they could just have Mike Tolbert dance for everyone.
Less #Running
Last year Russell Wilson ended the season with just 94 rushing attempts. Despite all the yelling about the read option (sigh), Wilson wasn't running much. He'd just hand the ball off to Marshawn Lynch. This season already, Wilson has 50 rushing attempts, and the Seahawks should be concerned.
That puts Wilson on pace for 133 rushing attempts this season. And it might not get better any time soon. Russell Okung is expected to keep missing time; three of Wilson's four games with 10-plus rushing attempts came after Okung went down. You could see it Sunday against the Titans: The Seahawks aren't blocking well right now. There's no guarantee it gets better.
Percy Harvin's timetable is still up in the air. Right now their wideouts can't beat anyone. I like Golden Tate and Doug Baldwin as much as the next guy but they need the addition of someone either in terms of a wideout or a lineman who can help keep Wilson from having to tuck and run so much. He's exceptional at avoiding big hits from defensive players but playing the odds here is dangerous at best.
"Close" Doesn't Count
"We're close on offense," Robert Griffin III said Sunday.
RG3 better hope so, because, yeah:
Can Skins reverse a weak start for a 2nd straight year, already 0-2 in NFC East? If not, Dan Snyder has a big call to make on the Shanahans

— Jason La Canfora (@JasonLaCanfora) October 14, 2013
And look, it's possible that RG3 is close to turning the corner. He looked infinitely faster this week than he did at the beginning of the season. It looks like his legs are coming back. Remember Adrian Peterson's comeback last year? He didn't start hitting his groove until Week 5 or so. Griffin suffered his injury later and requires different actions to do what he does at his position.
He might be right and they might be close to turning the corner. In that sense, maybe 2013 could mirror 2012, when Mike Shanahan literally gave up on the season with the Redskins sitting at 3-6. One problem: the schedule is that of a first-place team this year. Games against the Bears and Broncos in the next two weeks don't help Washington out at all. I remain bearish on their chances.
Punters Are People Too
And Zoltan Mesko is your favorite punter, my favorite punter and everyone's favorite punter now:
Thanks to @sbnation for this, although I'm deathly afraid that I may have just peaked in life ? http://t.co/s3WSkbmnUB

— Zoltan Mesko (@ZoltanMesko) October 14, 2013
WORTH 1,000 WORDS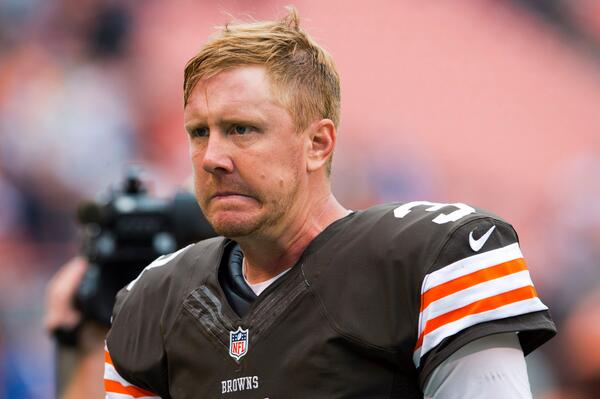 GIF O' THE WEEK
Rob Ryan just realized someone peed on his rug.
Potent Quotables
What's it like to beat the Jets? Tomlin: "Not like you won the lottery obviously but a good feeling"

— Michele Steele (@ESPNMichele) October 13, 2013
My 9-year-old son just said this to me, "Dad, were those really Riley Cooper's stats or was that a typo?"#TrueStory

— Daniel Jeremiah (@MoveTheSticks) October 13, 2013
How has Fauria been so successful for you? Schwartz: "He's tall as hell"

— Tim Twentyman (@ttwentyman) October 13, 2013
Peterson: "We just got blown out (by) 23 points, so let's focus on football and what the Minnesota Vikings can do to get better."

— Tom Pelissero (@TomPelissero) October 13, 2013