Jets coach Rex Ryan: No household chores during Patriots week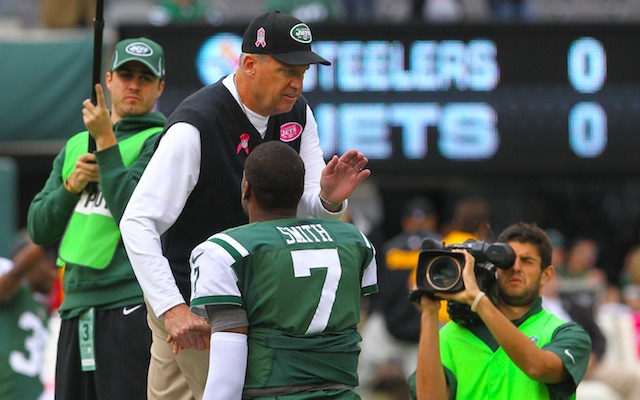 Jets coach Rex Ryan takes Patriots week seriously.
How seriously? Just ask Josh Cribbs, the Jets newly signed kick returner. During a team meeting on Wednesday, Cribbs said Ryan asked the players to rest their legs and not do anything for their wives this week, including chores like taking out the trash.
"I can tell he really wants this game," Cribbs said, via ESPN.com. "He was like, 'Rest your legs and go home. Don't do nothing for your wife. Say: 'Baby, next week. I'm going to do it next week. I'm going to take out the trash next week. I'll take the kids to practice next week. But I've got to rest for this game.' I'm going to tell him to put it on paper, so when I give it to my wife, I can be like, 'Hey, Rex said that I don't got to take out the trash.' So he might get a call from my wife."
Speaking of wives, apparently a few players mistook Ryan's 'Don't do nothing for your wife' comment to mean no bedroom relations with your wife. Rookie defensive tackle Sheldon Richardson said he 'most definitely' thought that's what Ryan meant.
Enough people were confused that Ryan later clarified his comments with the media and explained he was talking about chores and not making whoopee. The bottom line here: Jets players can make all the whoopee they want this week.