Remember When: Peyton Manning finally takes off in tough '98 season
As you should well know by now, Peyton Manning is going home to play this weekend. Well, what used to be home. Indianapolis, the place where he won a Super Bowl, threw for almost 55,000 yards in 14 years, passed for close to a bajillion touchdowns, and got knocked out in the first game of the playoffs more times than he'd care to remember.
But it wasn't always this way. That's to say Manning wasn't always the legend he'd come to be. Nope, in his first season with the Colts after they had taken him No. 1 overall in 1998, he was rather ... ordinary (by today's standards at least).
Compare, for instance, his first season with his successor Andrew Luck's rookie year.
Manning
Luck
| Year | Age | Tm | Pos | G | GS | QBrec | Cmp | Att | Cmp% | Yds | TD | Int | Rate | Sk | 4QC | GWD | AV |
| --- | --- | --- | --- | --- | --- | --- | --- | --- | --- | --- | --- | --- | --- | --- | --- | --- | --- |
| 2012* | 23 | IND | QB | 16 | 16 | 11-5-0 | 339 | 627 | 54.1 | 4374 | 23 | 18 | 76.5 | 41 | 4 | 7 | 13 |
As you can see, Manning had a league-high 575 pass attempts -- to let you know how much of a passing league this is now, Luck's 627 was the fifth-most last season - and led the NFL in interceptions. And Luck had seven times more game-winning drives as Manning.
Of course, Manning would turn into a legend, one of the best quarterbacks of all time, but until Week 12 of his rookie season, he wasn't much better than, say, Brandon Weeden as a rookie.
But it was Nov. 28 when we began to get a glimpse of the Manning of the future (and our present). The Colts at the time were 2-9, and they were headed to play a mediocre Ravens team in Baltimore.
Behind Manning and running back Marshall Faulk, Indianapolis took a 24-10 lead late in the first half and maintained a 10-point advantage in the third quarter, but with Baltimore quarterback Jim Harbaugh (yes, that one) and running back Priest Holmes, the Ravens went on a 17-0 run in the fourth quarter to stun the Colts 38-31. Still, Manning had completed a career-best 64.3 percent of his passes for 357 yards (his highest total of the season), three touchdowns and one interception.
The next week, the Colts traveled to Atlanta, and built a lead against a Falcons squad that went 14-2 that season and won the NFC title. Helped by Manning's 70.4 completion percentage and two touchdowns, Indianapolis took a 21-7 lead in the second quarter. But Manning also tossed two interceptions and the Falcons dealt Indianapolis a devastating blow.
(I should know, because that was the first NFL game I ever covered. I was writing a feature on tackle Adam Meadows for my college newspaper, and after the game, I asked Manning the dumbest question imaginable as he was getting dressed. Despite his disappointment, Manning was nothing but gracious to me, and I've always appreciated that.)
And then, in Week 14 (finally!), Manning and the Colts got the victory when he completed 65 percent of his passes for 210 yards and three touchdowns as they knocked off the hapless Bengals in Indianapolis.In the process, he broke Charlie Conerly's record for touchdown passes by a rookie that had stood since 1948.
"I've never been big on individual records, but the fact that record was held so long by Charlie Conerly, that's a special thing," Manning said after the game. "I'd still trade it all for some more wins this season, but it's a nice honor."
Of course, all did not end well for the Colts that season, as you can read in the below AP story following the season finale.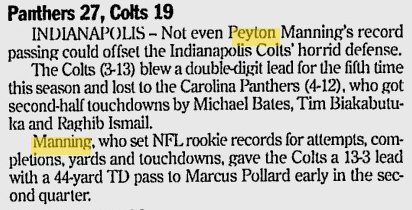 Obviously, Manning wasn't especially pleased with the season and how he and his team had struggled. So, he enlisted some help. From this Peyton Manning book: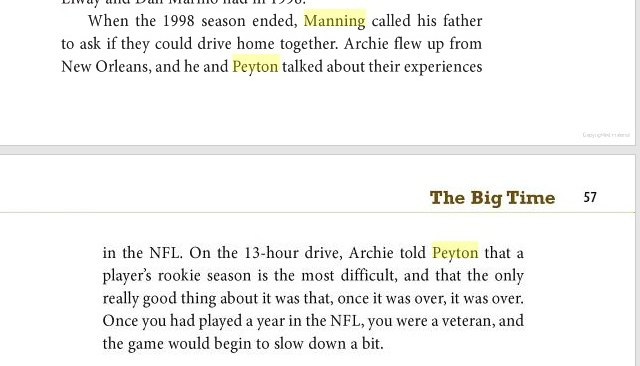 Luckily for Manning and the Colts, it did.