Goodell: Aldon Smith could face reduced penalty after rehab stint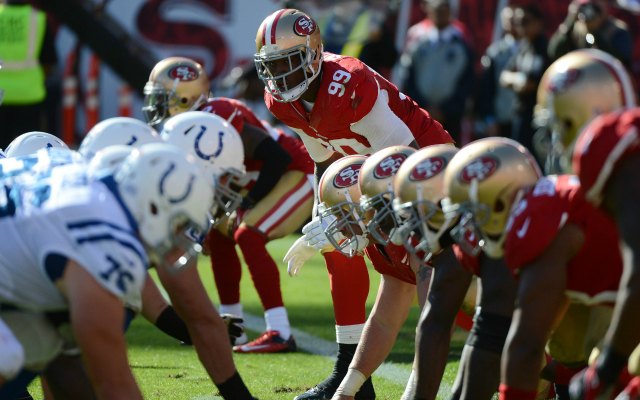 49ers linebacker Aldon Smith took a voluntary leave of absence from his team last month so he could go to rehab following his DUI arrest.
Smith hasn't played since Week 3, and it's unclear at this point whether the 49ers will try to bring him back sometime this season, but he's also facing discipline from the league for violating the NFL's personal conduct policy (Smith was arrested on a DUI charge once before, and he's also facing three assault weapons charges).
But with the 49ers playing the Jaguars in London on Sunday, Smith will miss his fifth-straight game, and commissioner Roger Goodell said that Smith's willingness to go to rehab could lessen his potential NFL suspension.
"Certainly," Goodell said, via the SF Chronicle. "The issue here is not to discipline players. The issue is to stop the behavior. And Aldon ... has voluntarily said, 'I need help.' We are obviously there to support him, and the 49ers did a great job getting him into a facility to try to get that help. We all support that. So, yes, it will be a factor, for sure."
Although Smith played the Sunday after his DUI arrest, he almost immediately afterward vacated the premises to work on himself. He expressed his sorrow as well.
"I am taking a leave of absence to address my health," Smith said in a statement. "I am sorry that I have affected my team, my family and the organization. I will do everything in my power to handle this situation the best way possible. I appreciate the support of the 49ers and our fans."
Goodell also was asked his thoughts about the 49ers playing Smith so soon after his car accident. Goodell said he would prefer players sit out after a DUI arrest but that the NFL didn't have the authority to keep Smith out in Week 3.
Follow Josh Katzowitz on Google+