Cordarrelle Patterson ties NFL record with 109-yard kickoff return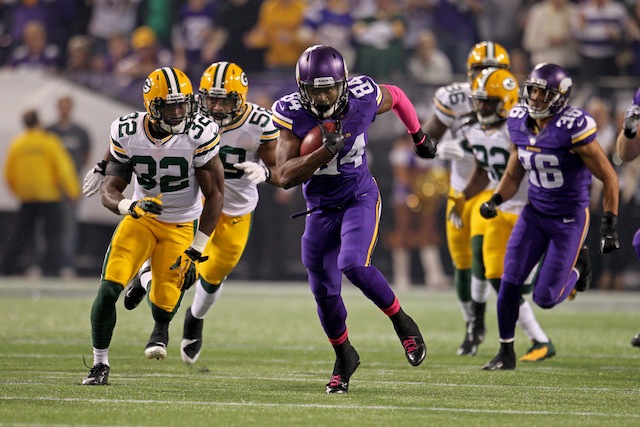 There have been two 109-yard scoring plays in NFL history and they both happened in the same stadium.
Vikings rookie Cordarrelle Patterson took the opening kickoff against Green Bay and returned 109-yards for a touchdown on Sunday, setting the NFL record for longest kickoff return in league history and tying Antonio Cromartie's record for longest play in NFL history.
Patterson broke the kickoff return record previously held by New England's Ellis Hobbs (2007), Green Bay's Randall Cobb (2011) and Baltimore's Jacoby Jones (2012). All three players shared the kickoff return record with 108-yard touchdowns.
The record-setting kickoff return by Patterson tied Cromartie's record for longest play in NFL history. Cromartie, then with the Chargers, returned a missed field goal 109-yards for a touchdown in a 2007 game against the Vikings played at the Metrodome.
On that play, Vikings kicker Ryan Longwell fell short on a 57-yard field goal attempt and Cromartie returned it for a touchdown in a game Minnesota would win 35-17.
Thanks to the return, Patterson will now be in the NFL record book forever. Future kickoff returners can tie Patterson's record, but they can't break it.
(Wink of the CBS Eye to BuzzFeed Sports)