Marvin Lewis, Andy Dalton question if OT safety was right call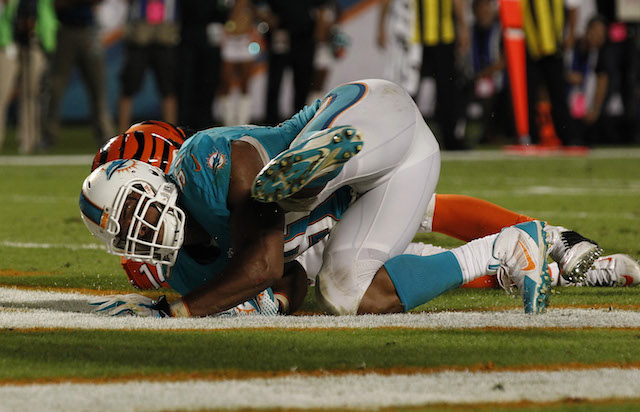 Dolphins defensive end Cameron Wake made NFL history on Thursday when he sacked Bengals quarterback Andy Dalton in the end zone for a game-winning safety in Miami's 22-20 overtime win.
It was only the third time in NFL history that a game ended on a walk-off safety. But not everyone is convinced that Dalton was safetied on the play. Bengals coach Marvin Lewis, who's a member of the NFL's competition committee, said he thinks Dalton got the ball out of the end zone.
"In my opinion, the ball was out of the end zone," Lewis said. "I don't know. That's a quick look at the board. [The officials] got a little better resolution to look than I do."
Lewis wasn't the only one who thought Dalton got the ball out of the end zone. Dalton thinks he did too.
"I don't know exactly the rule, if it's a foot, or if it's the ball, or what it is, but from the replay I thought it was out," Dalton said. "I don't know, I'm not an official and I don't know how they judge that."
The rule is pretty straightforward: the entire football has to be out of the end zone, otherwise it's a safety. It doesn't matter where Dalton's body was when Wake made contact with him, only the location of the football matters.
The NFL's head of officiating, Dean Blandino went on NFL Network after the game to explain the call.
"The key is the position of the ball in relation to the goal line when Dalton is first contacted by Wake," Blandino said. "We had a great look at it, a look right down the goal line. When Wake first makes contact with Dalton, the ball is breaking the plane of the goal line. If any part of that ball is breaking the plane when the contact occurs, and he is driven back into the end zone, it's a safety. That was the ruling. It was reviewed in replay and confirmed. The entire ball has to be out of the end zone when the contact occurs for it not to be a safety."
Here's a screen grab of Wake's hit. Is the ball completely out of the end zone or did the refs make the right call?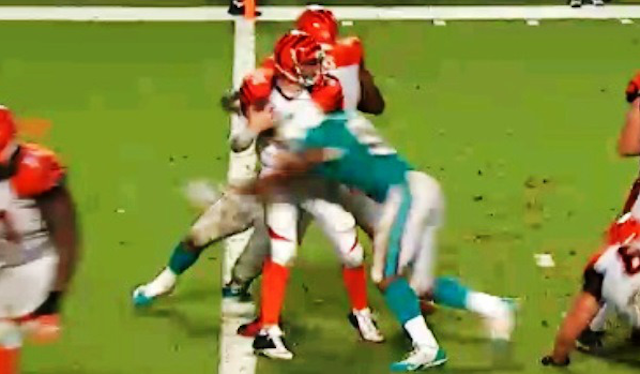 (Wink of the CBS Eye to SI.com for the screen grab)