Chiefs at Broncos flexed into Sunday Night Football for Week 11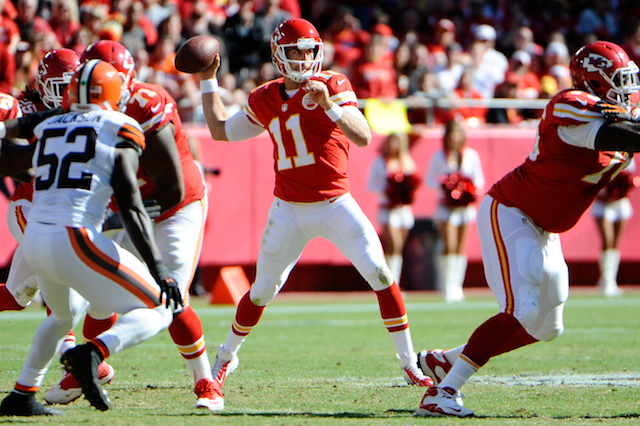 The undefeated Kansas City Chiefs are headed for Sunday Night Football.
The NFL can begin flexing games in Week 11 and on Friday, the league announced that's exactly what its going to do. The Chiefs game in Denver, originally scheduled to be televised on CBS at 4:05 p.m. ET on Nov. 17, has been moved to the 8:30 p.m. Sunday night slot on NBC.
The move will give the 8-0 Chiefs their second primetime game of the season. Kansas City beat the Eagles in a Thursday night game played in Week 3. After finishing 2-14 in 2012, the Chiefs were only slotted for one primetime game in 2013 and that's only because every NFL team is required to play on Thursday night football at least once.
The Week 11 game will be the Chiefs first Sunday night game since Week 12 in 2011.
As for the Broncos, the move means Denver will play on Sunday Night Football two weeks in a row. The Broncos play in New England in Week 12 on Sunday night and it's hard to imagine the NFL flexing a Peyton Manning vs. Tom Brady game out of that spot. Including the game with the Chiefs, six of the Broncos 16 games will have been played in primetime by the end of the season.
There were two other flexes announced on Friday: the Giants-Packers game in Week 11 that was originally scheduled for 8:30 p.m. ET has been moved to a 4:25 p.m. ET kickoff in New York. The Dolphins-Chargers game, originally scheduled for a 1 p.m. kickoff, has been moved to 4:05 p.m. ET.