Rams rookie Tavon Austin dazzles with 98-yard punt return TD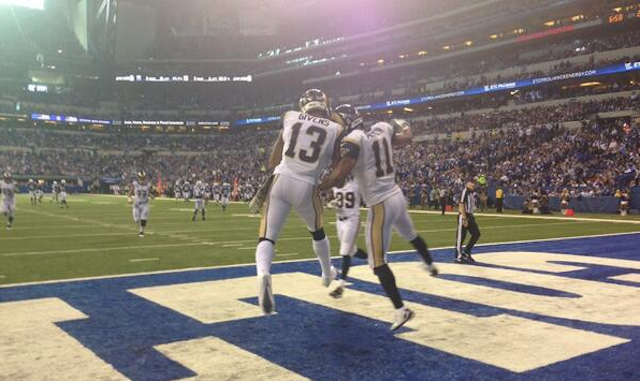 It took 10 weeks, but drafting Tavon Austin eighth overall has finally paid off for the Rams. The rookie showed off his speed in the first half agains the Colts on Sunday with two touchdowns of over 57 yards.
Austin's first touchdown came on a 98-yard punt return. Sure, 99.9 percent of punt returners would have let the ball bounce into the end zone for a touchback, but not Tavon Austin. Austin knocked a Colts defender to the ground before picking up the ball and racing 98-yards for the score. Before Sunday's game against Indy, Austin only had 123 punt return yards on the season, so he almost doubled that total with one return.
Austin's second score of the second half came less than four minutes later when the rookie caught a 57-yard touchdown pass from Rams quarterback Kellen Clemens.
The two touchdowns from Austin have helped St. Louis jump out to a 28-0 halftime lead in Indianapolis.
(Wink of the CBS Eye to STLouisRams and gifdsports on Twitter)