Saints set NFL record for most first downs in a game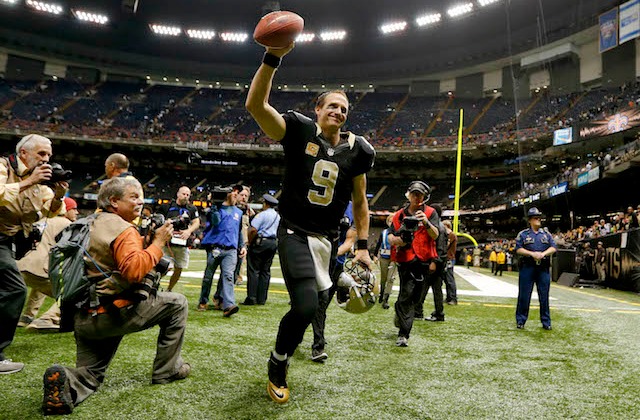 The Saints' 49-17 win over Dallas on Sunday night might have actually been worse than the score makes it sound. How that's possible? New Orleans totaled a franchise-record 625 yards and tallied an NFL record 40 first downs.
The 40 first downs came in almost every way possible: The Saints got 20 of their first downs through the air, 15 came on the ground and five came courtesy of Dallas penalties.
The 40th first down may have been the most interesting one. Late in the fourth quarter and facing fourth-and-5 at the Dallas 42-yard line, Saints coach Sean Payton decided to go for it. Running back Pierre Thomas squirted through an open hole to pick up exactly 5 yards and give New Orleans its record-breaking 40th first down.
To put that in perspective: The Cowboys only ran 43 plays in the entire game.
The Saints broke a first down record that had stood since 1988 when the Jets picked up 39 in a game against the Dolphins. The Redskins tied the first down record in a 1990 game against the Lions. The record was tied again last season by the Texans in a win over the Jaguars, but it had never been broken until the Saints reached the 40-mark on Sunday.
New Orleans' 625 total yards broke the franchise-record of 617 yards that stood for less than two years. The Saints totaled 617 yards in their 2011 season finale, a 45-17 win over Carolina. The game against the Panthers and Sunday's game against the Cowboys are the only two times in franchise-history the Saints have crossed the 600-yard mark.
Drew Brees wasn't the Saints' entire offense either. New Orleans totaled 242 yards on the ground, which is the most rushing yards by the Saints since they put up 249 yards in a 21-7 win over the Bengals in November 1990.
New Orleans' 625 total yards is the third-highest output in the NFL since 2000. The Texans put up 653 yards against the Jaguars in a November 2012 win and the Falcons put up 645 yards in a November 2002 win over the Steelers. However, both of those games came in overtime.
The Saints' yardage total is the highest in a non-overtime game since the Chargers put up 661 yards on the Bengals in a 50-34 win in December 1982. The good news for the Cowboys? The Chargers and Bengals ended up meeting again in 1982 -- in the AFC championship where Cincinnati got revenge on San Diego.