Texans bench Case Keenum, insert Matt Schaub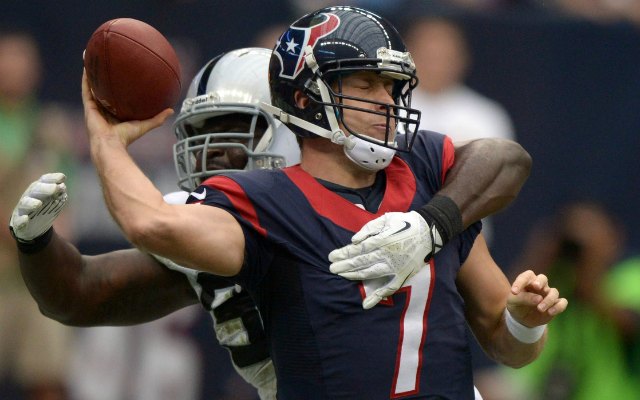 Although Case Keenum has been surprisingly good so far this year in taking over the Texans starting quarterback job, Gary Kubiak gave us some insight into his mind this week when he said that Keenum "has to continue to play well to stay in there" because Matt Schaub was "playing really hard."
Thus, on Sunday, with Houston down by 11 points late in the third quarter to a Raiders quarterback in Matt McGloin making his first career start, Kubiak benched a seemingly-healthy Keenum and inserted Schaub.
The move was surprising, because Keenum wasn't playing badly vs. Oakland. On the day, he completed 13 of 24 passes for 170 yards, one touchdown and one interception. Meanwhile, Schaub, who hasn't played since Week 6, is having one of the worst seasons of his career.
Besides, Houston needs to decide what to do about the quarterbacking position heading into the future. Schaub doesn't appear to be the answer any longer, but Keenum certainly could be. Benching him if he is healthy wouldn't exactly help his confidence.
Follow Josh Katzowitz on Google+