Redskins OL Trent Williams: NFL Official called me derogatory name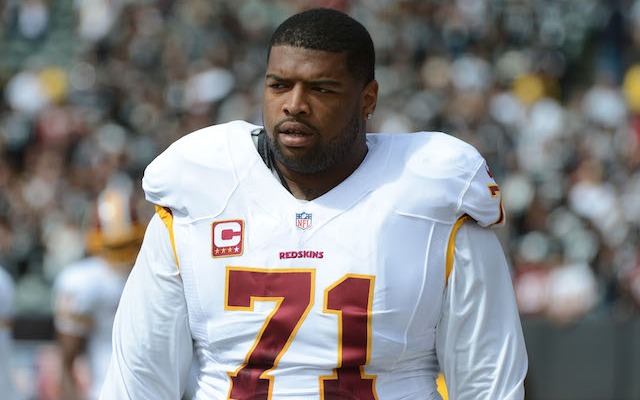 Redskins offensive lineman Trent Williams didn't just have to deal with the Eagles defense on Sunday, apparently he also had to deal with a member of the officiating crew. In his postgame interview after Washington's 24-16 loss to Philadelphia, Williams said that umpire Roy Ellison called him a 'garbage ass' and 'disrespectful mother[expletive].'
"When you have a ref come up to while you're at the line, about to run a play and call you a 'garbage ass' and 'disrespectful mother[expletive],' to me, this is a players league, I don't think there's no room for that, to take that from the team and the refs," Williams said, via CSNWashington.com. "I think that's very unprofessional. It sucks. I'm at a loss for words. You never expect that as a player going into the game to have to have a beef with the refs also."
The NFL is just learning of Williams' claims and is gathering information, CBS Sports NFL Insider Jason La Canfora has reported. A league source told La Canfora that the NFL will review the incident on Monday morning,
Redskins left guard Kory Lichtensteiger, who plays next to Williams on the offensive line, said he witnessed Ellison's verbal attack on Williams.
"I've never heard anything like that before in my life," Lichtensteiger said, via the Richmond Times-Dispatch. "These guys, I don't know what it was, but especially that guy (Ellison) came out with some kind of a vendetta."
Generally, one pool reporter is selected to interview the head referee after each game, however, the pool reporter was unavailable. A reporter with the Richmond Times-Dispatch was then told he could serve as the pool reporter to see if head referee Walt Coleman would comment on the situation. Coleman was on a bus preparing to leave the stadium when he was reached by the pool reporter. According to the reporter, Coleman had the bus driver roll his window up after being asked about the Williams situation.
Coleman may not want to talk about the incident, but the truth will likely come out. The Redskins offensive linemen were mic'd up during Sunday's game, according to the Washington Post, so there's a chance Ellison's words were recorded.