PHOTO: Tiger Woods in Denver for Broncos-Chiefs game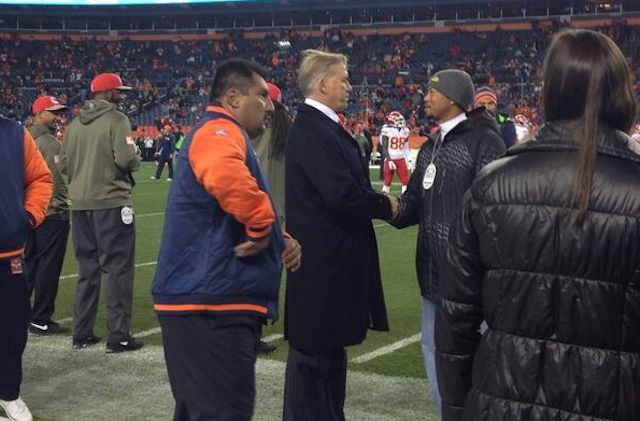 The Broncos against the undefeated Chiefs is the biggest game of Week 11 and big games always mean one thing: CELEBRITIES!
In this case, celebrities means Tiger Woods and his girlfriend Lindsey Vonn. As you can see below, Woods and Vonn are both at Sports Authority Field for Sunday night's game. You can also see John Elway. There's also an unidentified woman in the picture who is probably incredibly warm thanks to her furry boots.
Photo: Lindsey Vonn and Tiger Woods talking to John Elway before the Broncos game pic.twitter.com/zXUZ8loAo7

— Dave Althouse (@davealthouse) November 18, 2013
If you're wondering why Woods is at an NFL game in Denver, there's several explanations. First, Vonn might have made Woods go, her favorite NFL team is the Broncos. Second, Broncos VP of football operations John Elway might have invited Woods. Woods and Elway both attended Stanford, so they've got that tree thing going. Although I should point out that there are no Stanford-Men on Denver's roster.
The other explanation is that Woods is really rich and he just wanted to see an NFL game, so he flew to Denver for the biggest game of the week. In true Raiders-fan spirit though, Woods will probably be rooting for both teams to lose.
CBS broadcaster Jim Nantz confirms during golf broadcast today @TigerWoods is a die-hard @RAIDERS fan!

— OAKLAND RAIDERS (@RAIDERS) August 3, 2013
(Wink of the CBS Eye to AshleyFoxESPN on Twitter)