Vikings' Leslie Frazier on Adrian Peterson: He's not 100 percent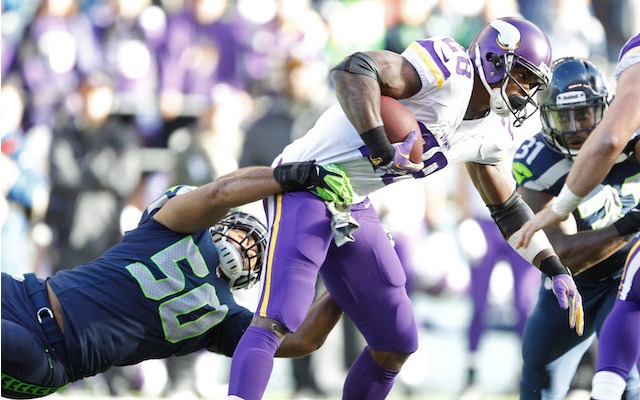 Playing against the No. 3 overall defense in the NFL is tough enough for a running back, playing against the No. 3 overall defense with a groin injury is almost impossible, but that's what Vikings running back Adrian Peterson tried to do against the Seahawks on Sunday.
Peterson missed two practices last week with a groin injury, but that time off wasn't enough for him to heal, coach Leslie Frazier said Peterson wasn't a 100 percent during Minnesota's 41-20 loss to the Seahawks.
"He is not 100 percent. That groin is bothering him," Frazier said, via St. Paul Pioneer-Press. "It definitely affected him. There were a couple of moments when he was so close to breaking it and just couldn't get that one key ingredient to get it going, but no, he is not 100 percent."
Peterson carried the ball 21 times for 65 yards against the Seahawks, a number that might have been higher if he wasn't dealing with the groin injury. Peterson didn't put an exact percentage on how his groin felt during the game, but he did agree with Frazier that it definitely wasn't a 100 percent.
"It was bothering me a lot," Peterson said. "There were a couple of plays in the first half, oh man, I knew if I was able to explode the way I normally do, I could have got some big chunks -- even took it to the house. That second half, I tried to get it to loosen up for me, but we couldn't create a drive."
Typically, groin injuries only get better with rest and that sounds like Peterson's plan heading into Minnesota's Week 12 game in Green Bay.
"I'm going to try to get my rest that I need," Peterson said. "I'm probably going to do it this week [in practice]. Just push it to Sunday. In my mind, I really don't know how things will turn out deep into the week. Fortunately, I came out and was able to play some. I'll try and do the same thing [next game]."